Recipe management system is one of the key features in the web based JAMIX Kitchen Intelligence System which supports your kitchen operation comprehensively.
Feature highlights:
Easy to create recipes
Versatile grouping options
Recipe costing
Nutrition calculations
Allergens and diets
CO2 Calculator
Images
Easy to change portion sizes and portion amounts
Mobile Recipe for paperless kitchen
Food Labels
Manage Unlimited Number Of Recipes In The System
Recipes are quick and easy to build by selecting ingredients from complete ingredient lists included in the kitchen system. Thanks to versatile grouping options it is easy to keep your recipes well organized. You can also add information on diets on recipes. You can divide instructions into several stages, if needed. If you are using the kitchen system on a mobile device, you can take pictures with it and save them directly on your recipe.
Once you have your recipes in the system, you can utilize them when building menus in JAMIX Kitchen Intelligence System.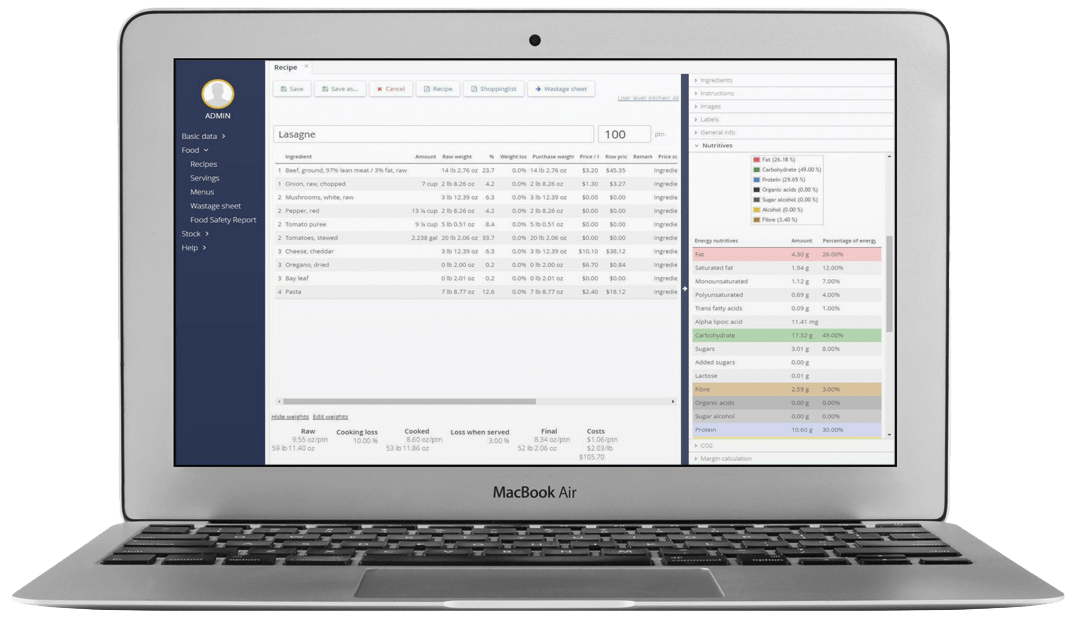 Recipe Management System with Automatic Calorie Counting, Allergen Tracking and Recipe Costing
JAMIX Kitchen Intelligence System comes with comprehensive nutritive data linked to ingredients. The system automatically calculates the nutrition facts for your recipe with detailed analysis. Information on food allergens runs through the system accurately. Product data including prices for ingredients can be updated electronically into the system. This ensures that your food cost calculations are always up-to-date. JAMIX System includes complete and automatic recipe costing functionality.
Control the Carbon Footprint of Your Recipes
JAMIX System includes a unique CO₂ Calculator which automatically calculates the carbon footprint for recipes and meals. There are also reference values based on the average CO2 footprint for different types of meals (snacks, main courses, desserts) to make comparison easier. You can communicate the CO₂ values in JAMIX MENU application for the end-customers, as well.
Unique Mobile Recipe for Paperless Kitchen
Mobile Recipe functionality in JAMIX Kitchen Intelligence System replaces the traditional paper printout in the restaurant kitchen. You can view all information needed for preparing food directly on the screen of your mobile device. In addition to ingredients, instructions and images the Mobile Recipe provides information on allergens and nutrition facts. You can change the amount and size of portions and the system automatically calculates the amounts for ingredients accordingly.
Easy Food Labelling
JAMIX recipe management functionalities include easy food labelling options. You can print food labels directly from the recipe for retail items with all the needed consumer information, such as ingredients including allergens and nutrition facts. In addition, versatile print options include price and weight information, storage information, date of preparation and use by date, as well as bar code.
More Than Just Recipe Management System
JAMIX Kitchen Intelligence System supports your kitchen operation all the way through. In addition to recipe management, the software includes the following features: