Concept Development in foodservice operation is the foundation for recipe development, equipment needs, service needs, and the operation's labor model. This is one of the topics in the following newsletter by Certified Master Chef Ron DeSantis.
Food Is Just the Beginning™
by Ron DeSantis
Volume 1 Issue 5
October 2018
CulinaryNXT
200 Totoket Rd
Branford, CT 06405
203-415-9190
Come On, Already!
One of the most frustrating experiences when eating out is being held for check ransom. We've all been there. We're done eating and want to pay the check, but……there is no one around to give you the check. OR, once you hand over your credit card or cash……no one returns with the card or the change, for a long time. It's like being held ransom. All you want to do is pay for your food, drink, and service and leave. Instead you're stuck waiting.
Thankfully it doesn't happen often.
Cheers!
Master Chef Insights
Concept Development
Concept Development is a critical task for managers and executive chefs. This part of foodservice operations is the foundation for recipe development, equipment needs, service needs, and the operation's labor model.
To begin concept development, the operation's team must develop a concept statement. The concept statement guides the planning and keeps the development team on course. Without a concept statement it's easy to get sidetracked and end up with a menu that is a combination of "stuff" instead of a menu that has complimentary foods.
Concept Development has 3 Stages: Conceptualization/ Crystallization/ Realization. The conceptualization stage is generally the most demanding. This is where the team develops the concept statement, and it is where the passions fly. This is critical to the process so that everyone is heard, and the outcome is embraced by the entire team. During crystallization the team determines the concept value and how to market the concept. The final stage of realization is where the team is ready to launch.
Operators that engage a structured development process end up with an interesting, exciting, and viable concept. Give me a call for detailed information.
Culinary & more…
Menu & Recipe Creation
Working with a great group of chefs is always fun and rewarding. The results are great food, lots of laughs, happy guests, and strong friendships. This group of chefs – Dan Flynn, Cyon Jones, Dave Kuzma, and Chase Sobelman– worked with me on a project that produced the following delicious dishes.
Green Goddess and Grilled Chicken Salad – little gem romaine with late season corn, grilled chicken breast with smoked salt, and Black Label Bacon.
Crispy Sicilian Stuffed Turkey Paillard with Mediterranean Salad – Sicilian sausage on a turkey scaloppini, breaded and pan-fried with a Mediterranean-style chickpea, cucumber salad.
Vegan Crab & Noodle Kung Pao – Hungry Planet vegan crab, lo mein noodles and kung pao sauce with a vegan crab spring roll.
'nduja Seared Halibut in Summer Cioppino – spicy New England Charcuterie 'nduja seared on halibut filet in cioppino-style broth with summer squash.
Red Velvet Panna Cotta – vanilla- buttermilk laced panna cotta with red velvet crumbles.
Hormel Foods Spam Haute Cuisine
The first impression at Noreetuh in NYC is hospitality. Immediately. The next impression is an immaculately clean and organized kitchen run by Chef Chung Chow.
Chef Chow's resume includes, Bouchon Bistro in Yountville, CA, Per Se in NYC, and Lincoln Restaurant with Jonathan Beno also in NYC. On the day of my visit, Chef Chow used his experience growing up with Hormel Foods' Spam and created exquisite dishes complete with hand-made pasta, truffles, and musubi. It was great meeting Chung and we had time to become acquainted (a link to our podcast is below).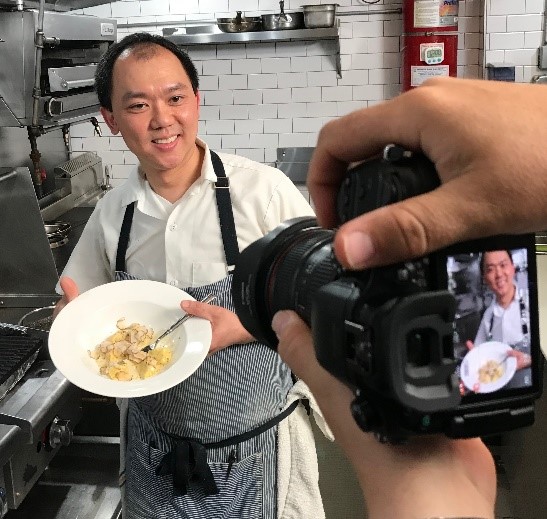 Menu items that Chef Chow created included:
Spam and truffle musubi
Chicory salad, papaya, crispy Spam, onion vinaigrette
Grilled Hawaiian opah with Spam hollandaise
Spam agnolotti, truffle cream, pickled celery, and shaved summer truffles
The lunch was a great experience.
Noreetuh is a modern Hawaiian restaurant located at 128 First Avenue in the East Village of New York City by Chef/Co-Owner Chung Chow and General Manager/Co-Owner Jin Ahn. For more information:
podcast
I've been waiting weeks to be able to share this information. Over the past several months I've been interviewing people that love everything about food for a new podcast series from Hormel Foods. Here is a link for Hormel Foods Our Food Journey™ Podcast www.hormelfoods.com
I'm honored to launch the series with a great colleague, Ethan Watters, conducting my conversation. The range of interviews includes, Evan Inada from Columbus Craft Meats talking about everything salumi; Chef Christina Machamer winner Hell's Kitchen; CIA Certified Master Chef Adam Busby; Chopped finalist Chef Kenneth Temple; and a compelling discussion with Nom Wah Tea Parlor owner Wilson Tang. Please join the journey.
CulinaryNXT is a food service advisory practice drawing on Ron DeSantis' 30 years of experience in all facets of the food industry. Ron is one of only 68 Certified Master Chefs worldwide and has advised organizations of all sizes and types. His strengths include culinary innovation, menu and recipe development, culinary assessment, bottom-line results, and communication skills that allow him to implement solutions  effectively.
CulinaryNXT's base is in New Haven, but its reach is truly global. CulinaryNXT's relationships extend to numerous countries around the world in a client and alliance network that has been built over many years. These relationships provide both global support and local knowledge.