Nutrient database included in a kitchen management system helps chefs and dieticians in creating menus with nutritional balance. Nutrient database is one of the topics in the following newsletter by Certified Master Chef Ron DeSantis.
Food Is Just the Beginning™
by Ron DeSantis
Volume 2 Issue 11
November 2019
CulinaryNXT
200 Totoket Rd
Branford, CT 06405
203-415-9190
www.culinarynxt.com
Come On, Already!
I had a wonderful experience with high school students from Queens, NY a week ago. While at NYC schools' administration offices to conduct a tasting of a plant-based burger I was asked to introduce the product. The students wanted to know if I knew any celebrity chefs. After I told them a couple of stories about some chef friends, one student asked, "why do you want our opinions, you know the best chefs?"
"Because it's your opinion that matters", is what I told them. I explained that their opinions are as valuable as Bobby Flay's. Their faces beamed with pride!
Cheers!
Master Chef Insights
World Food Programme
The following article is reprinted by permission.
Jamix (www.jamix.com) founder and CEO, Mikko Jaatinen was invited to participate on a panel at the WFP meeting in Rome on October 17th. At the conclusion of the program, Mikko wrote this report.
WFP – World Food Programme, is an organization under UN – United Nations.
It is present in any major human crisis you can read on global media at any given time, such as Syria right now, feeding people in despair – providing emergency food assistance.
Another main focus for WFP is National School Feeding programs.
WFP is working in 80 countries and feeds 80 million school children. These countries are poor or for other reasons not capable of doing it themselves.
Challenges in producing food in big scale
The challenges in the operations are familiar to anyone trying to provide food on daily basis to hundreds or thousands of people.
How to plan a versatile menu that is nutritious but simultaneously cost-efficient and sustainable. That is challenging and a hard task. Ingredient costs fluctuate and calculating recipe and menu costs is time consuming if not even practically impossible without a digital system. But it gets even more complex with allergens and different diets just to name few.
Food waste happens in many phases of the food production process, all creating huge environmental effects and obviously losing money every time food is thrown away or lost unnecessarily. Is the number of meals correct? Can I scale the recipe according to the right portion size? Do I know how much of each ingredient should be ordered from the suppliers? Do I know the inventory at the moment? Do we have standardized recipes so the cooks can follow planned menu and recipes?
Finland has been offering free school lunch for over 70 years
In Finland every schoolchild has been offered a free and nutritious school meal for over 70 years. When the school lunch system started, Finland was a poor country. The offering was more porridges and soups, but still, every child got a meal at school.
School lunch has huge benefits from many aspects. Obviously a hungry child gets fed and is healthier and happier. Better learning results is a major return of this investment. It is quite obvious that Finland's rise to the very top of the world in many different categories such as education and quality of life, is based on free nutritious school lunches for everyone. Finland is now a rich country.
Working for digitalization for 30 years
For already 30 years I have been tackling those challenges, in big scale food production, by digitalization.
Significant results can be achieved quickly and the opportunities to improve these processes are endless with the help of IT.
Kitchen Intelligence System can answer "Yes" to all of the above questions, and do even much more.
CFS side event in Rome
Finland was presenting its school lunch achievements in Rome Italy at the side event of CFS – Committee on World Food Security on October 17th, 2019.
I was privileged to be invited by Finnish government to Rome and be a member of the panel in the event.
I was simultaneously proud to present my experience and knowledge in a field where I have worked for such a long time – Solving problems and thinking of ever better solutions for feeding people.
I had great separate talks with stakeholders such as Director of the United Nations World Food Programme, Carmen Burbano de Lara as well as Sandra Westlake and Maria Jose Rojas of WFP, and Marjaana Manninen of Finnish Government.
Small change, big impact
I am sure that digitalization will help the world feed better even the poorest ones.
Even small steps in digitalization will have big impacts. Just having recipes in a digital system allows them to be scaled, to have accurate amounts for production, to follow nutrition and costs. Great digital systems do much more. But there are obviously huge opportunities to take digitalization even further, building eco-systems, presenting AI and giving ever more vital and useful information for daily processes and decision making.
Partnerships and co-operations with different stakeholders – governments, UN, WFP, businesses and individuals – are vital.
But especially important is will to do it.
I have that will!
Mikko Jaatinen
Founder, CEO of Jamix
Culinary & more…
Kitchen Tech – Nutrient Database
Through my work with Jamix Kitchen Intelligence Systems I'm asked which nutrient database is used by Jamix. That question comes up, presumably, because nutrient database information is not a simple subject.
There are nutrient databases existing which claim to have tens of thousands of nutrients. This may be true, but the quality of the data is the question. While researching various databases available, the most cited nutrient database in the United States is the United States Department of Agriculture (USDA) National Nutrient Database for Standard Reference. There are commercial databases that claim more foods, but these foods are primarily finished goods. The baseline nutrient information for produce, meats, dairy, beverages, etc all come from the United States Department of Agriculture National Nutrient Database for Standard Reference (SR). The USDA also publishes a database that is used to convert food and beverages consumed into a document called: What We Eat In America. This database expands the information provide by USDA SR.
The University of Minnesota offers a nutrient database with twice as many foods as the USDA database, but the University of Minnesota database is built on the USDA's. All the information above is a long way of making a point – the USDA nutrient database is considered a gold standard. In fact, when the Nutrition Society of the UK conducted a comparison of nutrient databases, it used the USDA nutrient database for the comparison.
Which database to use depends on how it will be used. If an operator uses branded, finished products then a commercial database might work well. Whereas an operation using more scratch-style preparation will be satisfied with fewer finished products. What is good to know, is that in both situations the base information comes from one reputable source.
Vegan Fast Food
During a west coast trip to San Diego, I visited a vegan fast food chain called – Plant Power Fast Food
This location was, coincidentally, 3 blocks from the Ocean Beach apartment I rented in 1976. Crazy! And the food was crazy good. I had the "Big Zac", and it delivered. Full disclosure, they use Hungry Planet plant-based meats and I've been working with Hungry Planet for over 2 years.
The "Big Zac" was really good, vegan fast food. The restaurant was clean, bright and the counter server knew about the product line. I know one thing, if I'm back in San Diego, near Ocean Beach, and in the mood for a "Zac attack", I'm heading to Plant Power.
B. Good Restaurant – Boston
Two colleagues said to meet at B. Good, Washington St. Boston, so I did. I had NO idea what to expect in this restaurant, but I wanted lunch. The menu board had a lot of great options and I ordered the SPAGHETTI & MEATBALLS – zucchini noodles, eggplant meatballs, kale, parmesan, tomato, marinara. This dish was delicious! Everything well prepared, food was hot, wait time was short. The finishing kitchen is open to view and is in the restaurant. What I saw was fresh ingredients being prepared and immediately served. Everything right about that.
The take-out business was busy. Clearly, they have an app allowing customers to order and pay ahead, then just walk in and pick up the order. Back to what I ate…..the star of the dish was the eggplant meatballs. There wasn't any animal meat, but who cares? I understood what they were saying. These things are GOOD. I now know the eggplant meatballs are available as a side.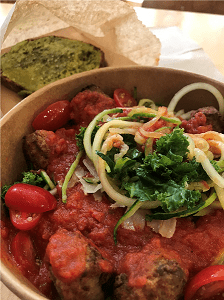 Mankai at MIT
Yes, that MIT. In Cambridge. It turns out the Resident District Manager of Bon Appetit at MIT is a very dear colleague. Chef Gary Arthur leads the culinary team and launched menu items using mankai. www.eatmankai.com
You may recall I introduced Mankai in my August 2019 newsletter. It is the smallest plant on the planet and is harvested every 72 hours. Mankai grows in fresh water and is a complete protein (all essential amino acids), it has B12 and iron. One of the culinary benefits of Mankai is its neutral taste. This allows it to be incorporated with many foods.
At MIT, the culinary team used Mankai for smoothies, an Asian-style soup, and in the hand-stretched pizza dough. The student body was very interested, and many came back to try it a second time. More information on Mankai in 2020.
Ingredient of the Month
Truff Hot Sauce
If you haven't tried this stuff – TRY IT! My dear friend, Chef Christian Petroni, set a bottle of this on the table at his restaurant, Fortina and I was hooked at the first taste. This stuff is GOOD. The heat level is balanced, and the sauce has great taste. Additionally, the sauce has a rich texture which provides a very satisfactory mouthfeel.
Who knew?
Cooking Tip
Chopped Parsley
This is a short cooking tip. In professional kitchens, chefs chop enough parsley for use during the meal period. That way we're not chopping every time we need some of the herb. So, do the same in your kitchen. Chop the entire bunch(es) of parsley and put it in the fridge to use for the rest of the week. This is, in classical French cooking, mise en place. Today it's called "place" or "mise". It simply means having things ready to make the magic happen.
Incidentally, put the chopped parsley between a couple sheets of paper towels and squeeze the moisture out. This will keep it fresh smelling and tasting for a few days in the fridge.
Bon Appétit!
CulinaryNXT is a food service advisory practice drawing on Ron DeSantis' 30 years of experience in all facets of the food industry. Ron is one of only 70 Certified Master Chefs worldwide and has advised organizations of all sizes and types. His strengths include culinary innovation, menu and recipe development, culinary assessment, bottom-line results, and communication skills that allow him to implement solutions effectively. CulinaryNXT's base is in New Haven, but its reach is truly global. CulinaryNXT's relationships extend to numerous countries around the world in a client and alliance network that has been built over many years. These relationships provide both global support and local knowledge.