Recipe database along with ingredient database help with recipe compliance, which provides many benefits for a food operation. Recipe compliance is one of the topics in the following newsletter by Certified Master Chef Ron DeSantis.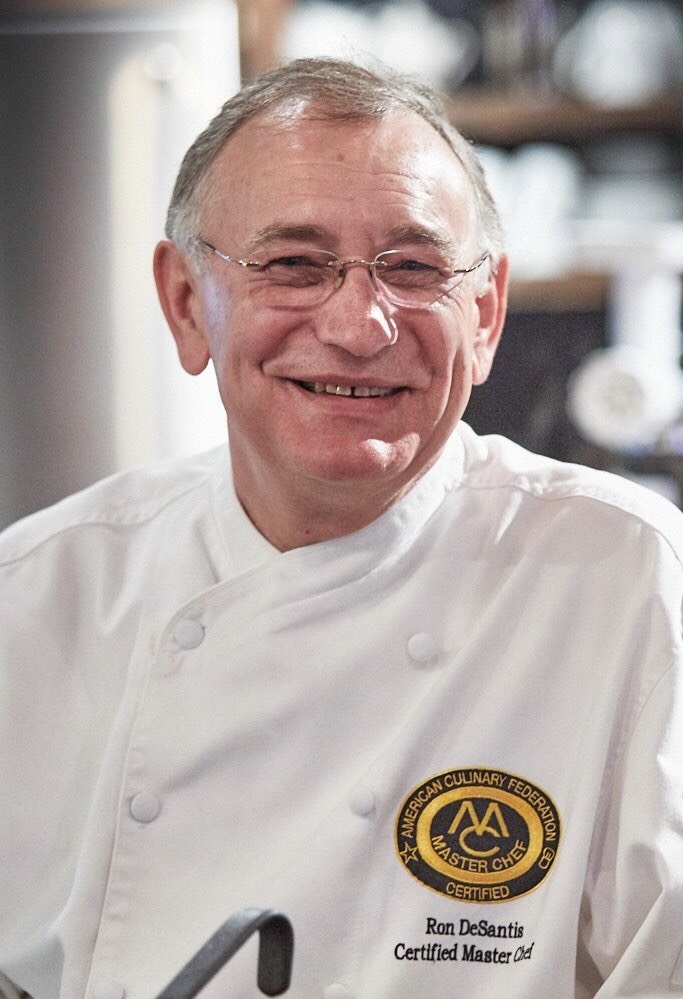 Food Is Just the Beginning™
by Ron DeSantis
Volume 1 Issue 4
September 2018
CulinaryNXT
200 Totoket Rd
Branford, CT 06405
203-415-9190
Come On, Already!
Here's a culinary challenge to everyone cooking food – cook the vegetables! Somewhere in the last 15 years diners seem to have accepted partially raw vegetables on a plate, and cooks are delivering partially raw vegetables. The art of vegetable cookery has all but disappeared. That nuance between perfectly cooked and slightly raw has been overtaken by mostly raw vegetables served hot. Describing perfectly cooked vegetables is hard, but you know them when you eat them. An expertly cooked vegetable – cooked to the point JUST past raw – is a memorable dining experience.
So, come on, already chefs, take up my challenge and rediscover cooked vegetables. Give diners that element of their dining experience.
Cheers!
Master Chef Insights
Recipe Compliance
A food operation's recipe database along with the ingredient database establish the foundation for effective kitchen management. Recipes are built using the ingredients in the database. Ingredients provide data for costing, nutritional analysis, allergen information, and ingredient availability.Well written and accurate recipes help cooks, and cooks appreciate recipes that can help them in a production setting. Recipes help chef and cooks with production planning. Through clearly written, accurate recipes chefs can make production assignments for the entire culinary team according to skill and ability. Written recipes also become a training tool. When recipes are accurate and clearly written, managers and chefs have a strong tool which leads to recipe compliance.
When used properly, recipe compliance is not a top-down management tool. As used here, recipe compliance is cooks performing to an established set of standards. Part of those standards will include a mechanism to modify, and/or improve the parts that don't work.
Recipe compliance impacts the operation in these ways.
Consistency. Food prepared according to a recipe is consistent in taste, doneness, quantity, cost, and appearance among other things.
Costs. Compliance to the recipe ensures that the operator knows the cost of each menu item.
Nutritional accuracy. Recipe compliance ensures the accuracy of the nutritional value of each menu item.
Allergen transparency. Recipe compliance confirms the trust bond between
All types of food operations benefit from developing and documenting recipes. The benefits reinforce the need for a kitchen management system. The cost benefits help operators to be successful, and the benefits from consistent taste and trustworthy information create brand loyalty.
Culinary & more…
Eat it NOW!
Not all food gets better with age. Cheese does, wine can, salumi definitely, braised meats the next day – sure. But this is about food that should be eaten NOW. Think fries. Fries never get better with age, never. That first batch of fries from clean fat, crispy on the outside, tender and steamy on the inside, just a light coat of fat and seasoned with the perfect amount of salt, and almost too hot to eat …is one of the perfect foods.
How come, then, did we get to the point where it's ok to let food get "old"? Pizza is perfect immediately out of the oven. I know, we all ate refrigerator pizza for breakfast and said we love it. But it still wasn't as good as when it was fresh out of the oven. Pizza is an Eat it NOW food, so are fried eggs/ spring rolls/ crabcakes/ grilled cheese/ ramen/ angel hair pasta/ risotto/ waffles. And then there's toast. Something as simple as toast can be one of the best parts of breakfast if it's toasted properly, then eaten while warm, crispy on the outside, and soft on the inside. There are so many other foods that are best when eaten as soon as they are done, because that is when they are perfect.
Somewhere, somehow, we started to lose sight that some food is best eaten immediately. We wanted food delivered or we want take-out. That's fine, but not all food is suited for take-out.
SoCal Visit
Visiting southern California allowed for some delicious restaurant visits and the enjoyment of an ice cube.
Who gets impressed with an ice cube? Me. At the Sunset Tower Hotel patio bar I ordered a Campari on ice. The ice was a perfectly clear square which fit exactly in a rocks glass. The ice was so clear, one could read through it. The slow melt ensured that the drink wasn't quickly diluted with water…..simple pleasures.
The surprise dinner experience was at Craig's in West Hollywood. My daughter was interested in eating there and Craig's serves Hungry Planet premium-plant based meats (disclosure – one of CulinaryNXT's clients) so we made reservations. Craig's is an exciting restaurant to walk into. Great hospitality and busy! The waitstaff is professional, knowledgeable, and know how to deliver hospitality. Chef Krizer's kitchen delivered expertly prepared, delicious food. For more information craigs.la
Tal Ronnen's Crossroads always delivers. Food, service, atmosphere, hospitality are all hallmarks of Crossroads. The food is innovative, expertly prepared, and delicious. Incidentally, it's also vegan. I've eaten at Crossroads a half dozen times and it's a great experience each time. For more information crossroadskitchen.com
In San Diego we met up with a fun chef friend, Jim Phillips and his wife at Trust Restaurant. Brad Wise is the Chef/Owner and clearly loves what he's doing. The food was big flavor, fresh and satisfying. The kitchen is in the dining room and we sat at the chef's table with a clear view into the hot zone. One of the surprises that night was a chicken liver toast with mostarda, grilled levain, radish, evoo! That was at the start of the meal and things continued to get tastier. For more information trustrestaurantsd.com
Dim Sum
Nom Wah
On a recent visit to NYC Chinatown I was introduced to Wilson Tang. Wilson is the owner of NYC's oldest dim sum restaurant, Nom Wah Team Parlor. Not only did I get to experience Wilson's dim sum, but I got to go on a walking tour of Chinatown with him including a stop at Aqua Best, Inc. In addition to the original Nom Wah Team Parlor, I visited Nom Wah Nolita which serves a new take on Chinese food.
For more information nomwah.com
And aquabestnyc.com
Ingredient of the Month
Parsley
Parsley doesn't get the respect it deserves (neither does celery). This herb is undervalued in regard to flavor. In today's kitchens parsley is thought of as a color. The full flavor impact of parsley jumps to life when it is freshly picked and included as a flavor ingredient in many foods.
The classic herb condiment, gremolata, puts parsley in the spotlight. Gremolata can be a flavor powerhouse for grilled or sautéed foods. Freshly picked and chopped parsley will ensure that your gremolata has the bright flavor expected of this condiment.
Take a fresh look at parsley and if you can use it freshly picked, you'll rediscover a delicious ingredient.
Web Links of the Month
Cancer Nutrition Consortium
Ongoing research to help patients undergoing cancer treatment has been published by the following authors:
Dr. Kisha Coa
Dr. Joel Epstein
Dr. Bruce Moskowitz
Kathy McManus, M.S., R.D., L.D.N.
I am privileged to serve on the Cancer Nutrition Consortium board with this distinguished group of medical professionals. Please join me in congratulating this team. Here is a link to their work:
Veterans and Hormel Foods
Hormel Foods recently invited me to cook and share one of my go-to foods with other Hormel veterans.
CulinaryNXT is a food service advisory practice drawing on Ron DeSantis' 30 years of experience in all facets of the food industry. Ron is one of only 68 Certified Master Chefs worldwide and has advised organizations of all sizes and types. His strengths include culinary innovation, menu and recipe development, culinary assessment, bottom-line results, and communication skills that allow him to implement solutions  effectively.
CulinaryNXT's base is in New Haven, but its reach is truly global. CulinaryNXT's relationships extend to numerous countries around the world in a client and alliance network that has been built over many years. These relationships provide both global support and local knowledge.