Restaurant chain management is one of the features in the web based JAMIX Kitchen Intelligence System which supports your kitchen operation comprehensively. Whether you are managing several restaurant concepts or multiple sites under one concept, JAMIX Kitchen Intelligence System is the right tool for you! With the restaurant chain management system functionality you can manage recipes, ingredients and menus area or concept specifically in the same database. JAMIX system manages production requisitions and deliveries between different sites, as well. Managing multiple sites in one system makes it easy to control and analyze operations. In addition, it allows you to centralize routine work which saves time.
Data Management and Control In a Restaurant Chain
With the restaurant chain management functionalities you can share data both to all users and filtered groups of users within your organization. You can update product information throughout the system simultaneously for all users. The system enables centralizing of procurement to the administrator or compiling purchase orders for eg. price negotiations with suppliers. The system provides you with accurate purchase orders based on your menus. Ordering ingredients according to your need results in less wastage.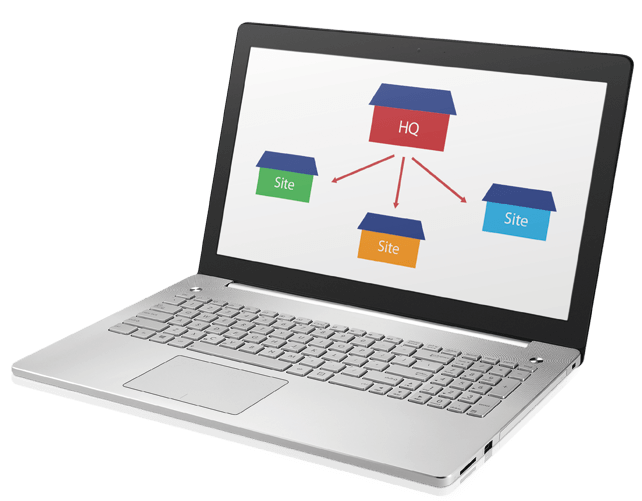 Recipes, menus and procurement in chain management
JAMIX Kitchen Intelligence System provides you control over procurement as the administrator is able to define the suppliers and items to be used. You can manage recipes and menus by site, by chain or by concept. This provides the HQ with control over costs and quality of food served throughout the chain.
The administrator can monitor data of all sites in the system, eg. wastage, invoicing and inventory balance, which enables centralized analysis of operations and actions accordingly.
Dynamic Menu Management Features
In multi-site operations you can make kitchen-specific modifications on shared menus with the dynamic menu functionality. This functionality is ideal for multi-site operations with kitchens utilizing a shared menu but having differences in the amount of diners, portion sizes and prices.
Managing Production Requisitions
You can easily manage production requisitions between your sites with the JAMIX Kitchen Intelligence System. The sites can make requisitions to the commissary kitchen based on its product lists. Once the goods are delivered, you can register them into the system. The commissary kitchen is able to monitor and compile all production requisitions in their production sheet.
Restaurant Chain Management System Seamlessly Linked to Your Kitchen Operation
JAMIX Kitchen Intelligence System supports your kitchen operation all the way through. Restaurant chain management is seamlessly linked to the following features in the software: