The dynamic kitchen intelligence system permits the end-user to customize the look of recipes, menus, and other details. This is one of the topics in the following newsletter by Certified Master Chef Ron DeSantis.
Food Is Just the Beginning™
by Ron DeSantis
Volume 2 Issue 6
June 2019
CulinaryNXT
200 Totoket Rd
Branford, CT 06405
203-415-9190
Come On, Already!
This "Come On, Already!" changed in the course of 24 hours. On May 29th I visited the Los Angeles Unified School District with Hormel Foods. The staff, faculty and administrators were inspiring. The incredible work they do everyday to positively impact the students of the school district is heroic. This is the kind of news I wish everyone knew about. More about LAUSD next month.
Cheers!
Master Chef Insights
NRA
The 2019 National Restaurant Association show is over. This was a very different show for me because I participated as an exhibitor with the Jamix Team. Being an exhibitor required showing up at McCormick Place 90 minutes before the show opened so that I could walk the floor to see what was happening. Being an exhibitor also allowed me to talk with hundreds of interested attendees about Jamix Kitchen Intelligence Systems. Incidentally, Jamix was a 2019 Kitchen Innovations Award recipient at the show. More about Jamix later.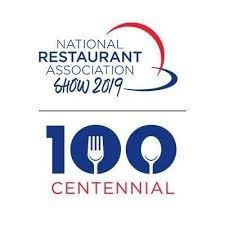 On the food side of things, the FABI Awards showcased 32 food products. What struck me was that 26 of the 32 items were plant-based. Black Truffle Pâté was easy to fall in love with. This is a ready to use black truffle spread! Amazing! Another food, a result of molecular gastronomy, are Caviaroli Drops by Albert Adria (the brother of legendary  chef Ferran Adria) were popularized at the former #1 restaurant in the world, el Bulli. Each drop is the essence of 5 olives encapsulated in a light gelatin coating that measures 20mm. Here is haute cuisine available for everyone.
Two foods that are equally remarkable are FabaButter and Skhug Sauce. First skhug sauce.
Pronouncing skhug (shoog) will probably be one of the biggest challenges as it moves into mainstream. Also, there are numerous ways to spell it. Go ahead and google it, you'll end up without anything definitive. What you will learn is that skhug is HOT. Fiery hot and addictive. The bright heat adds intensity to the food it's mixed with. Chilies, cilantro, and spices are all that's needed to blend skhug. Now it's available ready to use. Go ahead and try it.
FabaButter is dairy-free "butter". This spread uses coconut oil but, and this is the game-changer, uses aquafaba as well. For the uninitiated, aquafaba is the liquid drained from a can of chickpeas. It is flavor neutral and whips up to a meringue-like foam. FabaButter reportedly performs like butter in baked goods, and it also has a clean label.
These are a handful of interesting foods to watch.
In the world of Jamix, dynamic ensures that all data within the system is working in harmony. Furthermore, the data can be used to drive e-menus outside Jamix, interface with other external systems, view Jamix information on tablets and smartphones, and upload Jamix recipes to kitchen equipment such as high-tech ovens.
The dynamic system permits the end-user to customize the look of recipes, menus, and other details. Jamix enables the user to effortlessly upload photos to the recipes, including step-by-step photos displayed at each step of the recipe methods. The user is also able to immediately access nutritional information, allergen information, ingredient/recipe/menu cost, and print labels. All of this is a function of a truly dynamic system.
In the past, I've written about recipes and here it's worth writing about them again. My conversations with dozens of people at NRA revealed the need to reinforce the value of the recipe. The recipe is the foundation of a successful operation. Fundamentally it provides a real-time view of ingredient, recipe, plate, menu costs. It is the basis of production schedules and ensures a consistent product when it is followed.
Recipes in a dynamic system become sub recipes. The sub recipe becomes part of the ingredient list and, best part, the system scales the sub recipe accurately. The dynamic system allows the user to tag a unlimited number of preparation functions – thawing, marinating, chopping, etc. And each function can be assigned to be done the day of preparation or day(s) earlier.
This won't be the last word on recipes or the value of a dynamic system.
Small Change Big Impact Food Summit
Last month I provided a link to the Hormel-Harvard Small Change Big Impact Future of Food Summit that was conducted with Harvard University Dining Services. Here's that link again:
Inaugural Small Change Big Impact Food Summit to Bring Together Industry Leaders at Harvard University April 3-4 2019
The keynote at the Summit was Hormel Foods' CEO Jim Snee. Jim delivered an opening talk that set the tone for the Summit – Be Bold! Jim told the conference that the recipe for success is to think differently, act boldly, do not do business as usual, embrace leadership, and change the world. These are some of the things which lead to "Inspired People. Inspired FoodTM" at Hormel. Jim also reminded everyone that "there is no finish line in our food journey". It was a great talk to start the Summit and reminded me that big food can be good food.
The rest of the day was consisted of panels with experts from various part of the foodservice industry. More on them in upcoming newsletters.
Ingredient of the Month
Colatura di Alici
Anchovy essence. Yup, you read right. Or, anchovy drippings. I digress, it doesn't sound appetizing, BUT this stuff is a recipe dated back to the Romans. Whether you like anchovies or not, this clear amber liquid is a flavor BOMB! A small amount provides a satisfying, delicious umami impact to food.
One of the oldest uses is garlic fried in olive oil, toss with spaghetti and lightly drizzled with colatura di alici. Once you taste it, you'll understand why this is still around after a couple thousand years.
Cooking Tip
Crispy Skin Fish
How do you get the skin on fish crispy? I've been asked that A LOT. It's easy but the most important thing is – be patient.
The fish must be scaled. Then, heat a skillet (cast iron works great, but so do other pans). Heating the skillet is also one of the critical steps. Don't rush the process. Put the skillet on a heat source, turn it on medium low and let it heat for a few minutes. Increase the heat to medium high and allow skillet to get hot.
Add a small amount of oil to the skillet or spray it with oil. If the oil is smoking, that's good and time to add the fish – skin down. Use a spatula to gently press the fish against the pan bottom. It will have a tendency to buckle, so hold it or use a bacon press….if you have one.
At this point, don't move the fish or turn it. Allow the pan to do its magic. After 2-4 minutes, depending on the thickness of the fish, lift slightly and look at the color. If it's not dark and crisp, leave the fish alone for another 1-2 minutes. Then turn over, lower the heat and finish cooking for 2-4 minutes, depending on the thickness of the fish. It is also possible that the fish will not have to be turned over. The least amount of time the fish is in the pan, the moister the fish.
Serve immediately and enjoy crispy skin fish.
Bon Appétit!
CulinaryNXT is a food service advisory practice drawing on Ron DeSantis' 30 years of experience in all facets of the food industry.  Ron is one of only 70 Certified Master Chefs worldwide and has advised organizations of all sizes and types. His strengths include culinary innovation, menu and recipe development, culinary assessment, bottom-line results, and communication skills that allow him to implement solutions effectively.
CulinaryNXT's base is in New Haven, but its reach is truly global. CulinaryNXT's relationships extend to numerous countries around the world in a client and alliance network that has been built over many years. These relationships provide both global support and local knowledge.