Jamix is exhibiting in the Fastfood & Café & Restaurant Expo Helsinki  22-23 March, 2023.
JAMIX Kitchen Intelligence System saves time and money in restaurants and food service operations. In addition, it supports sustainability in your kitchen. Come and meet us at stand 3a45 to learn more about our cutting-edge, cloud based software solution suitable for any type and size of commercial kitchen operation.
JAMIX Makes Your Work in the Restaurant Kitchen Easier, Faster, and More Efficient
JAMIX Kitchen Intelligence System is a cutting edge kitchen and food management software for managing any size and type of restaurant, food service operation, dining service, or catering service.
Comprehensive JAMIX Kitchen Intelligence System manages several sides of commercial kitchen operations including recipe management and costing, allergen information, menu planning and nutritional analysis, inventory management and procurement. All this in one system and with all information seamlessly linked together.
With JAMIX Mobile application the kitchen system is easily available to all employees regardless of place or time. Checking information goes smoothly, and registering information into the system is no longer the responsibility of just a few people with access to the kitchen's computer.
JAMIX Mobile application includes the following functions related to JAMIX Kitchen Intelligence System:
Recipes and Menus
Purchase Orders and Deliveries
Withdrawals and Wastage
Inventory Take
Publish and Share E Menu with JAMIX Menu Service
Menu planning is one of the key features in JAMIX Kitchen Intelligence System that supports your food service operation comprehensively. It is seamlessly linked to recipes and ingredients that are in use in the kitchen. You can publish the same menu, that you have created in the system for managing the kitchen's internal operations and production, with a couple clicks in a customer friendly format in selected digital channels.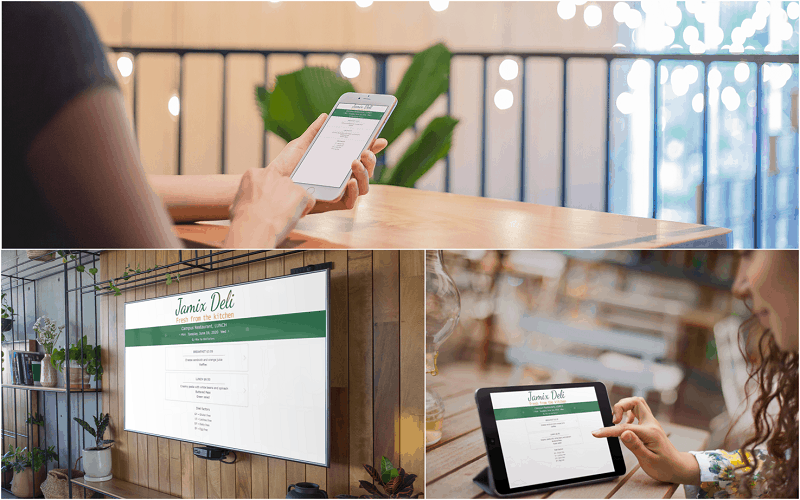 Collect Customer Feedback on Your Menu Digitally
JAMIX MENU Customer Feedback feature is included in JAMIX Kitchen Intelligence System that supports your food service operation comprehensively. It enables you to collect customer feedback on your menus.
JAMIX CO2 Calculator Calculates the Carbon Footprint of Food
JAMIX CO2 Calculator is an application included in JAMIX Kitchen Intelligence System. It calculates the carbon footprint of food. The application will automatically calculate the CO2 values for recipes and meals. Reference values included in the system make it easy to evaluate the carbon footprint of a certain menu item or meal. You can communicate the CO2 values to the end-customers with JAMIX MENU service.
JAMIX is the leading software supplier for commercial kitchens with over 30 years of experience within the food service industry.