Food Is Just the Beginning™
by Ron DeSantis
Volume 3 Issue 1
January 2020
CulinaryNXT
200 Totoket Rd
Branford, CT 06405
203-415-9190
Come On, Already!
2020 is already here. We are 2 decades into the 21st century. I remember watching the original Star Trek TV show and thinking how far away, and futuristic the 21st century sounded. AND, how old I would be then! To digress – old is a state of mind. Yet, here we are living the 21st century. To me, this is an exciting time. The food industry continues to grow, innovate, and provide meaningful experiences for billions of people. In the words of Jackson Maine, "take it in".
Wishing you a New Year of Health, Happiness and Peace!
Cheers!
Master Chef Insights
This newsletter is a little different than last January. One article will be the last year in review, and another article talking about predictions. Next month, back to the regular features.
2019 Year in Review
The interesting thing about reviewing 2019 is how much was packed into a single year. Recipes, menus, travel, presentations, client meetings, conferences, you get the idea. Below the year is laid out monthly….somewhat. First, some overall stats:
35 presentations on behalf of CulinaryNXT clients.
13 conferences – presenter at 11 of these 13 conferences.
139 new recipes developed for clients in 2019.
26 distinct menus for events throughout the year (Jamix Kitchen Intelligence Systems made it easy to mine this data).
12 unique newsletters sent out to select readers.
January 2019
Austin, MN, wind chill temperature -52°F. CulinaryNXT designed, planned, and executed Hormel's annual shareholder's dinner. What made this dinner interesting was an all vegan hors d'oeuvres menu. Several months later Hormel launched Happy Little Plants meat analog products.
February 2019
Attended North American Association of Food Equipment Manufacturers conference. Great opportunity to see what manufacturers are up to.
March 2019
At the start of the month, I was at New York City School Systems providing at tasting of Hungry Planet Philly Cheesesteak vegan burger.
From there, up to Boston for the New England Food Show, then to Yale with Fresh Ideas Food Management for a tour of the Ivy League dining facilities.
The month ended at a private home near Boston to hold a cooking class for Find The Cause Breast Cancer Foundation findthecausebcf.org I was auctioned off for this cooking class. It's a lot of fun and a worthy cause.
April 2019
Things heat up this month. The start of the month was the Small Change Big Impact Food Summit at Harvard University sponsored by Hormel Foods. CulinaryNXT worked with Hormel Foods and Attention Span Media, and Harvard University Dining Services to plan and deliver this conference. What made this conference different were the topics and the conference's intent. This was conference that not only provided information, it also provided solutions.
Here's a link for your review thefoodimpactsummit.com
The following week was in Los Angeles to conduct a cooking demo for the Sunrise Produce conference attendees. This came about when the president of Sunrise Produce, David Sapia, won the cooking demo at an auction for Rett Syndrome in Los Angeles, I was the auction item. Instead of a private cooking demo, David asked that I conduct a cooking demo for Sunrise Produce customers. This demo/presentation was plant-forward and healthy eating.
On April 24th I was in Scottsdale, AZ at the Produce For Better Health Conference. Amy Myrdal-Miller and I conducted a joint presentation/demo for the attendees. We created recipes for the demo, and the accomplished culinary team at the resort recreated the recipes at lunch for the attendees. Win-win situation.
May 2019
Early May I teamed up with US Foods VP Brand Activation, Mark Eggerding, at Ohio State. This was a presentation/demo about trends with food demos to illustrate the trends.
Later in the week, it was off to Chicago for the National Restaurant Association (NRA) Show. This year's show had significant impact for Jamix. Receiving the NRA KI Award provided Jamix with national recognition for innovative kitchen intelligence systems. The team in Finland was as excited as we in the US were.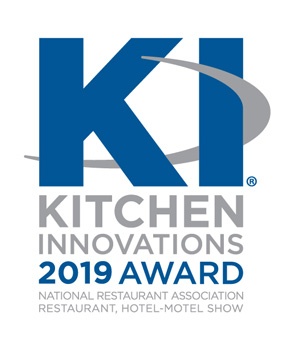 May wrapped up at the Los Angeles Unified School District. At Hormel Foods invitation I joined their team to explore how to provide resources for LAUSD. This is a project in the works and will have significant impact on thousands of school children.
June 2019
Oh, what a month! June starts out with a culinary competition at UMass Amherst Dining program. The level of competition was exceptional, and it was a pleasure to interact with dozens of fantastic chefs attending the conference at UMass. Ken Toong and his team operate a conference that is truly focused on culinary.
Now for a crazy week. On Sunday June 16th I arrive in Nashville, TN to meet my Hungry Planet colleague, Freddie Holland. We represented Hungry Planet at a vegan/vegetarian product cutting for a Group Purchasing Organization. There I reconnected with a CIA grad and celebrity chef Maneet Chauhan. Chef Chauhan was kind enough to provide us with prep space before the cutting. Incidentally, Hungry Planet was awarded a contract.
2 days later, I'm at CIA in Hyde Park with Hinoman to introduce Mankai to the greater foodservice industry. I rolled out Breakfast Mankai Bings, Sweet Potato Hash with Mankai, and several other new food items with mankai as the star ingredient.
And on Friday the same week, I'm on a plane to Singapore to help launch Hungry Planet premium plant-based meats in Asia. Working with a local Singapore chef we held a tasting for over 100 guests (suppliers/chefs/media/and others) in the Asian market who are interested in plant-based meats. The food was a mix of western cuisine and Asian cuisine. The local chef, Addis Tan, is the chef/owner of HRVST in Singapore. Chef Addis and his team work with me to deliver delicious Asian influenced foods for our guests. Including a vegan Singapore Chili Crab!
My wife was able to join me on this trip to Asia and from Singapore we visited Tokyo and then Hong Kong. This was an incredible food journey!
July 2019
National Association of College and University Food Service (NACUFS) conference was in Denver, CO this year. I was there with the Jamix Team.
July was a month to introduce Mankai to MIT, Northwestern, and Yale. Through presentations and tastings we were able to introduce this incredible plant to these 3 institutions.
August 2019
August was fun. The stars aligned and I reconnected with a long time friend, Chef Christian Petroni. I met Christian many years ago when he was the chef at a tapas restaurant in White Plains, NY. Since then, Christian has opened 5 restaurants – Fortina in the NY, CT area. He is on Food Network ALL THE TIME. And his love of food and the chef life is energizing. He wanted to know more about plant-based meats. So I visited his team at Fortina in Stamford, and we cooked. Great food, great chefs exploring a new food item and loving the experience. fortinapizza.com
September 2019
3 Certified Master Chefs joined up to innovate for Hormel Food's management meeting early in September. Chef Tony Seta, CMC, Chef Tom Griffiths, CMC, and Chef Dan Coudreaut, CEC, joined me in Austin, MN to deliver global mash-ups to Hormel senior leaders.
During the management meeting at Hormel, I joined a chef panel to share industry insights with Hormel's senior leaders. The panel consisted of – Chef Grace Ramierz @chefgraceramirez Chef Christina Machamer @chef.cmac Chef Kenneth Temple @kennethtemple Chef Tony Finnestad, and me @therealculinarynxt
From Austin, back to MIT in Boston to introduce MIT students to mankai.
October 2019
Energetic and fun visit to NYC Schools to conduct a student tasting of Hungry Planet plant-based burgers. Students were engaging, inquisitive, and not shy about their thoughts. Students gave a thumbs up 89% approval rating…..very cool.
November 2019
First day of November had me in Vernon, NY to help a dear friend, Garrett Law, host a community dinner in an old church he bought earlier in the year. With the help of Chef Larry Watkins, over 100 guests enjoyed a late Harvest Dinner at thisoldchurch.com
From Austin, back to MIT in Boston to introduce MIT students to mankai.
The next day I was on a plane to Helsinki, Finland. After a day tour of Helsinki, I gave a talk to Finnish foodservice managers about the US Culinaryscape. After that, it was a 3 hour drive north to Jamix Oy headquarters in Jyväskylä, Finland. Jamix founder & CEO Mikko Jaatinen offered me an opportunity to address the company employees. This is how I found out how excited and proud the Jamix team was to have received the NRA KI Award for the work they do. This group of professionals love what they do!
December 2019
My career at CIA rewards me often as I travel. This month I was visiting a food manufacturer in New Jersey and met the company's Director of R&D. This chef explained that he worked on a project with me while he was a CIA student. Now, many years later, he's leading R&D at a quality food manufacturer. A tour of the production facility, and tasting the food, confirms that this chef is making a difference.
December wraps up with me holding a demo at the NY Produce Show. The demo had 2 parts – okonomiyaki as a global food platform, and global sauces as flavor bursts for vegetable dishes. A recent CIA grad, Rebecca Moran @moransmunchies assisted me (thank goodness, because the cooking stage had a power shut down for about 10 minutes, and Rebecca came to the rescue!) at the demo.
There you have CulinaryNXT's highlights for 2019. Thanks to everyone for their interest and support.
Culinary & more…
Predictions
Each year numerous organizations, the media, and people make predictions for the coming year. Why? Just think about it, if I predict that 2020 will be THE year for Havarti grilled cheese sandwich with pickled salsify, what happens? Maybe someone will ask me my prediction for 2021, Havarti producers will sell more Havarti, and salsify will be in demand. I know I'm oversimplifying, but food predictions are odd. At the end of this newsletter is my predictions which I wrote in 2010. So, what did I know back then? Here's some of what I wrote back then – "flavorful, bolder, fresher, natural, organic, local and sustainably sourced fare is impacting menu design", and "3 Themes will impact 2010: Global Impact, Ingredient Impact, and Emerging Impact". Here's the thing – so what?
When I think of predictions, I look for things that will have impact. Here are examples of what I mean:
Henry Ford predicting people will want cars if the car is affordable.
Steve Jobs predicting people will want a computer that fits in your pocket, takes pictures, and functions as a phone.
Ray Kroc predicting that people will want an affordable meal fast.
Walt Disney predicting that, deep down, we are all kids and want wholesome entertainment.
These predictions, and others like them, have had a resounding impact on the world.
Does that mean we shouldn't predict? No. It's fun to see what predictions happened and which don't. Predictions can help planning and forecasting. And predictions help us to stay in tune with the industry and push us to innovate. Who knows, the innovation might have the impact of a Henry, Steve, Ray, or Walt.
Last year I flew 102,199 miles. My journeys took me across the US several times, to Singapore, Tokyo, Hong Kong, Helsinki, Bavaria, and other places. Food was always a significant part of all traveling. In light of my global travel, here's my trend prediction for the future – good food will be the differentiator. Why? My experiences taught me that only good food will have staying power, good food doesn't need to be the newest "foam" or "cryoconcentration" (although this is VERY cool), good food has to taste so good that you are satisfied. Perhaps it is an experience. Who knows? Suffice it to be so good that you remember it and talk about it.
Reflecting back, I couldn't tell you the "best" meal experience of last year. Perhaps it was with my wife at a Michelin started restaurant in NYC, or it might have been at a friend's home in Jyväskylä eating Karelian pie, then again it could have been tempura in Tokyo with my life-long Japanese friend, being served personally by the chef who has been preparing tempura in his restaurant for 40 years, or it might have been paella at our neighborhood beach with the entire neighborhood. The common thread? Good food.
Bon Appetit.
Keep Scrolling!
CulinaryNXT is a food service advisory practice drawing on Ron DeSantis' 30 years of experience in all facets of the food industry. Ron is one of only 70 Certified Master Chefs worldwide and has advised organizations of all sizes and types. His strengths include culinary innovation, menu and recipe development, culinary assessment, bottom-line results, and communication skills that allow him to implement solutions effectively. CulinaryNXT's base is in New Haven, but its reach is truly global. CulinaryNXT's relationships extend to numerous countries around the world in a client and alliance network that has been built over many years. These relationships provide both global support and local knowledge.
Reprint from 2010
2010 Food Industry Outlook
2010 will continue to create challenges for food service operators. High unemployment, weak consumer confidence, the on-going war on terror, fierce competition, and other economic uncertainties will slow recovery in the food service industry. The good news is that there are a number of interesting and innovative broad themes emerging as the food industry enters the 2nd decade of the 21st century. The last decade provided a wealth of new ingredients for the chefs and food operators. We ate superfruits, macro and micro-nutrients, pre and pro-biotics, organic and sustainable meats, poultry, and vegetables, and indulged in some of the finest single-source chocolate on the planet.
Social networked foodies found a new voice and operators delivered food to the Millennials from trucks, wherever they wanted fresh fast food. The Wall Street Journal called these trucks, "aggressively gourmet, tech-savvy, and politically correct". Restaurateurs like Danny Meyer served upscale Indian food from a cart outside Tabla in NYC, and the former Le Cirque pastry chef operates Dessert Truck in Manhattan.
Restaurants "reinvented" pizza as flatbreads. Flatbreads are broadly defined as simple breads, lightly leavened and topped with savory ingredients. Diners made out with the likes of – Caprese Flatbread, Truffle Flatbread, Grilled Potato Flatbread, Tapenade Flatbread, and Sea Salt & Parmesan Flatbread. This category is well received and served at bar menus, as appetizers for sharing, and as main dishes. The ease of preparation and the ability to change quickly will keep these on menus for a while longer.
Mini-indulgences resonated with guests. Sliders quickly became the "must have" menu item, and customers indulged in decadent samplers like – mini chocolate pot pies, or mini cupcakes. Small foods on a stick allowed diners to experiment with various skewers – anticuchos, satay, and yakitori. One size doesn't always fit all. Small is now smaller. Restaurants respond in numerous ways
Entrees available in full or half sizes
Miniature menu items
Pre-appetizer small bites meant for sharing
As the new decade launches the food industry is beholden to the less than inspiring global economic situation. What is good for the restaurant goer is that tough times bring out another side of culinary innovation. Value will continue to be important to diners, and restaurateurs will return to the basics with good food and drink. Familiar foods will resonate with customers, albeit with a twist. "Post-recession, we don't expect manufacturers to reinvent the wheel", states Lynn Dornblaser, of Mintel. Diners will expect good flavors; good ingredients and where they come from; and of course, good pricing.
Menus will need to be fresh, both from ingredients and with interesting twists on familiar foods. Chefs will incorporate high quality ingredients, classical preparations twisted for today's diner, and authenticity will be expected in traditional preparations. Key will be to evoke customer's emotions and drive repeat business. Menu design will be important to restaurants and updated menus will reflect customer demands and build excitement about the offerings. Today, demands for more flavorful, bolder, fresher, natural, organic, local and sustainably sourced fare is impacting menu design. The past 2 decades has produced a more sophisticated, and well-traveled consumers. In addition, aging Baby Boomers are continuing to look for new and exciting food offers. This demographic will continue to impact important segments of the food industry. Restaurant operators looking for on-trend flavors, foods and beverages, will incorporate new flavor and ingredient trends. Among these are:
Bacon – bacon showed up on menus this year in cocktails (at NYC bar, Please Don't Tell), to dessert (cupcakes from More in Chicago). Expect to see bacon and its cousins, pancetta or speck, continue to be explored on menus.
Salt – premium salts such as fleur de sel, Hawaiian red salt, or smoked salt will be highlighted on menus. Sweet-savory combinations are likely to continue using salt (Haagen-Dazs fleur de sel ice cream, or the CIA's Apple Pie Bakery Café sea salt caramel).
Fruit – fruits will play a significant role in savory applications. Roasted Black Jonathan apples compliment Pork at Michael Chiarello's Bottega in Napa Valley. Look for balsamic strawberries, oven-roasted figs, and pickled peaches on this year's menus.
Smoking – smoking provides layers of flavor from the various woods available to chefs. Expect smoked cheese, vegetables, and herbs to provide complex layers of flavor.
Sauces – customers will be the winners when it comes to sauces. Chefs will "re-discover" classical French sauces, and embrace Global sauces at the same time. Fond de veau, veloute, and béchamel will find new uses along side mayonnaise, mojo, and romesco.
Three main themes will define 2010 –
Global Impact
Familiar with a Twist
Europe Revisited
Fusion Grows Up
Ingredient Impact
Emerging Impact
Familiar with a Twist
Comfort foods resonate particularly strongly with consumers. People crave foods that are soothing or just bring a smile to their faces. Comfort foods are favorites from childhood – foods such as macaroni and cheese, grilled cheese, meatloaf and stew. But these old favorites are getting new twists on today's restaurant menus. American food will continue to be defined by the incorporation of our heritage – the American Melting Pot. Macaroni and cheese is being made with penne pasta in white truffle-infused cream sauce, served with grilled shrimp, asparagus and scallions. Mimi's Café introduced a seasonal "Comfort Foods with a Twist" menu, offering Banana Chocolate Chip Pancake Breakfast, Tender Pork Shank and Mimi's S'mores. The presentation of food, the flavor, and the experimentation will continue to excite in 2010.
Traditional favorites using lesser cuts of meat are the foundation for comfort- and value-minded diners – and chefs. Entrées such as braised-brisket ropa vieja at Justin's in Albany, N.Y.; and beef daube at Nel Centro in Portland, Ore., capture the trend. Operators are looking to buy cuts of meats that are less costly; for example, buying chicken thighs instead of breasts or using whole chuck roll to make slow-braised beef. Nel Centro Chef-owner David Machado, daube recipe calls for beef chuck roll braised in red wine with pancetta, a pig's trotter, crushed tomatoes and pork stock. His other restaurants,
Vindalho and Lauro Kitchen, also feature cost-effective comfort fare such as braised pork shoulder and lamb shanks.
Burgers have advertised the use of fresh Angus beef, premium ingredients or a signature sauce. Operators are going beyond standard burger toppings – lettuce, tomatoes and ketchup – and are offering interesting twists. The "better burger" trend is evident across the foodservice industry, in segments from fine dining and casual dining to fast casual and quick service.
McDonald's has unveiled Angus Third Pounder burgers with 100% Angus beef on premium buns in deluxe, bacon and cheese, and mushroom and Swiss varieties.
Burger King has new mini-BK Burger Shots.
Red Robin has introduced burgers with spicy ancho-chipotle or satisfying bleu cheese toppings.
Atlanta's new FLIP Burger Boutique is serving "upscale yet affordable burgers," ranging from a $6.50 basic burger to the ultimate in decadence, a Kobe burger served with foie gras, shaved truffles, bread and butter, pickles and red wine syrup for $45.
5 Guys Burgers has created an east coast cult following of their retro-burger joint made with fresh beef and fries.
BLT Burger in Las Vegas offers an American Kobe Wagyu burger for $17.
Sandwiches, like burgers, have also been going upscale. Sandwiches are appealing because it can simultaneously offer consumers something familiar and something unexpected. Upscaling is often achieved through the use of high-quality cuts of meat, artisan breads, specialty toppings and distinctive condiments. Sandwiches will emphasize global influence by offering Scandinavian open faced, Indian Kati rolls, PLTs with pancetta or pork belly, international grilled cheeses and redefined Mexican tortas. The trend toward hand-crafted gourmet sandwiches is especially apparent in the fast casual segment. Panera Bread Company offers a Smokehouse Turkey Sandwich, featuring smoked turkey breast, smoked bacon, smoked Cheddar cheese, sun-dried tomatoes and ale mustard on grilled three-cheese artisan bread. Meanwhile, Au Bon Pain offers the Prosciutto & Mozzarella Sandwich, combining prosciutto, fresh mozzarella, romaine, tomatoes, mayonnaise and Mediterranean relish on a farmhouse roll. At Char No. 4 in Brooklyn they serve Char's tender, smoky lamb pastrami – tissue-thin slices on seeded rye with coriander-spiked aioli. Tom Collichio's 'wichcraft serves a meatloaf sandwich with cheddar, bacon, and tomato relish.
Continue to expect deep-fried everything. Thomas Keller's ad hoc restaurant in Napa Valley has a southern fried chicken night, NYC's Back Forty is offering deep-fried pork jowl nuggets, and Fried Apple Pie is served at Sou'Wester in Washington, D.C. Fried food is craveable and diners continue to order fried foods. House-made potato chips, tortilla chips fries, and croquettes are turning up on menus. Most consumers do not deep-fry at home, so expect them to look for fried food away from home.
Europe Revisited
The recent release of Julie & Julia is inspiring restaurateurs to explore French recipes that bring back memories of Continental Cuisine. Nostalgic Julia Child fare, such as lobster Thermidor, quiche Lorraine and salmon mousse, are reminding diners there is comfort in familiar. At the same time, these foods become new for a younger dining crowd. During the last decade diners were introduced to a global flavor palate. Exciting foods from Mexico, Central and South America, the Mediterranean, and Asia dominated menus. American diners were so intoxicated with the excitement of new flavors, they quietly set aside the traditions and classics of "the Continent". 2010 will see operators and diners remembering the best from Europe. Chefs will reintroduce Continental Cuisine to diners.
Fusion Grows Up
Los Angeles' Kogi truck and its signature Korean tacos and Vermilion's Indian-Latin blends gets at least some of the credit for this latest fusion craze, which will only get bigger in 2010. Of course a few operators were ahead of the curve— Asia de Cuba has offered diners blends of Asian and Latin cuisines since 1997; Jose Garces debuted Peruvian-Cantonese hybrid Chifa in Philadelphia in early 2009; and Richard Sandoval continues on the fusion path he established in Washington, D.C. Their menus offer previews of flavor couplings to come:
Chaufa Rice: stir-fried rice with chorizo, mango, edamame and soy-glazed scallops
Cuban BBQ Chicken with Thai coconut sticky rice, avocado-cilantro fruit salsa and tamarind sauce
Pulled-beef tostadas with cilantro, peanuts, bean sprouts, cotija cheese and guacamole
Short rib sliders with Sriracha aioli at E&O Trading Co.
Sourdough bread and lavash with feta walnut spread and Caspian tapenade at Zare at Fly Trap
Global influences are here to stay. Sriracha (rooster sauce) is the new salsa. Vietnamese Banh Mi is the new Ham & Swiss; and Middle Eastern spices and spreads go mainstream. When consumers dine away from home, they want food with unique flavors and profiles they cannot easily recreate in their kitchens. These distinctive flavors are based on ethnic ingredients and cooking techniques. Asian, Mexican and Italian influences have migrated to mainstream restaurants. To differentiate their menus from those of competitors, operators of ethnic restaurants are introducing more focused regional ethnic cuisine, such as Italian entrées from specific regions, Jalisco-style Mexican fare, or Korean or Vietnamese items instead of just "Asian."
Freshness
Emphasis on local and seasonal ingredients will continue to grow. Operators will be challenged to provide interesting and flavorful food within the constraints of seasonality. Fresh frozen local strawberries will be used in the winter, and will deliver a clean, just-picked tasted. Buying vine-ripened tomatoes in August, then freezing them whole will provide operators with salsas and tomato toppings that taste just-picked in the dead of winter. Innovation in acquiring and handling seasonal food will challenger kitchens to re-learn canning. Expect to see house-pickled summer vegetables to appear on menus. Just because people don't have time to cook doesn't mean they don't crave homemade food. In 2010, watch chefs add an artisan touch where they can: artisan breads and cheeses, house-infused spirits, locally sourced produce and meats. "Rustic" will describe naturally-shaped pizza crusts and mashed potatoes. Restaurant-grown items are also a great way for restaurants to differentiate themselves.
With a vegetable garden at the White House and the First Lady now tending it, look for more chefs to follow suit with herb and vegetable gardens. Emphasis will be on local and seasonal ingredients. Demand for heirloom farm products—from tomatoes to lettuce, to livestock—will continue.
Sourcing
A distinct trend is the consumer preference for locally sourced and sustainable food–both produce and proteins. Michael Pollan made readers aware that sustainable food is achievable in his book, "The Omnivore's Dilemma". Today's consumers are aware and concerned about their carbon footprints, and, when they purchase food, they want to know their purchase does not have a larger impact on the environment. This emphasis on local fare has implications for restaurants that are challenged to find reliable, adequate supplies of locally sourced and sustainably produced ingredients at a cost that allows them to make a profit. Given that the issue is now firmly on the minds of consumers, smart restaurant operators are responding appropriately. A case in point is Corner Bakery Café informing customers it planned on "staying local" over the summer growing season with its BBLT Sandwich LTO, which featured a double portion of locally grown tomatoes. America is just now learning how to be sustainable, and Americans are holding themselves responsible. In 2010 we'll see people and companies becoming sustainable for authentic reasons; they are doing it to make a difference. After all, that's what comes with understanding.
Pristine local organic produce is no longer enough, chefs and guests are casting their nets beyond small, local, sustainable and organic farming to demand sustainable seafood certified by the Monterey Bay Aquarium Seafood watch and other eco-conscious organizations.
Mobile to You
It's the food truck social gathering of focused food purveyors creating the new block party. These trucks are serving grass-fed beef burgers, free-range chicken, heritage pork, local lamb, crème brulee, and fusion tacos. Professional chefs are leaving hotel jobs as chefs to open and operate a food truck. One challenge is to convince consumers that they are not the standard hot dog wagon. Roy Choi of Kogi BBQ serves Korean beef short rib tacos and kimchi quesadillas in LA. Kogi BBQ gets Tweets from customers about great locations to park. When Kogi BBQ shows up, people are waiting in line for the food.
This dining style is in line with Millenninal's preference for fresh, sustainable, interesting food with big flavor served where and when they want it.
Sources: Various media outlets.