"Knowing what a kitchen operation requires from a system and using this data in choosing a value-based system is part of the intricate matrix that supports an organization's success." Choosing a kitchen system is one of the topics in the following newsletter by Certified Master Chef Ron DeSantis.
Food Is Just the Beginning™
by Ron DeSantis
Volume 3 Issue 3
March 2020
CulinaryNXT
200 Totoket Rd
Branford, CT 06405
203-415-9190
Come On, Already!
This month starts out with a big THANK YOU to my friend and colleague, Amy Myrdal-Miller. Amy and I worked together back in our CIA days and today we find ourselves working together with mutual clients and on meaningful projects.
My recent talk at the NY Produce Show struck a chord and Amy notes the flavor burst sauces from that talk in her most current article. Please take a look on page 7.
Cheers!
Master Chef Insights
Food Waste and Fermentation
Concern about food waste has been a foodservice topic for several years. Much has been written about how to minimize food waste. The FDA notes that the United States wastes 30-40% of the food supply. In 2010 that equated to 133 billion pounds of food worth $161 billion. Staggering.
That's not what this article is about. This is about fermentation as a flavoring ingredient and it's about an emerging technique as a flavoring ingredient.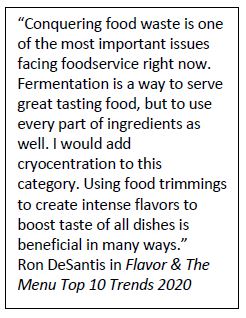 Fermentation has been a powerful flavor enhancer for centuries. Think of wine, soy sauce, vinegar, pickles, sauerkraut, cheese, and salami for example. All are examples of fermented foods. The powerhouse in fermented foods is umami. This is one of the 5 basic tastes we experience when eating fermented food. And it is a powerful culinary tool.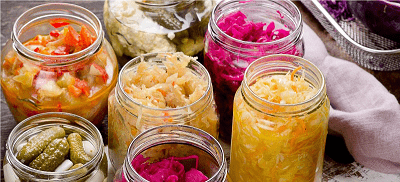 Fermentation, like many culinary applications, started as a way to preserve food. In this way food was stored until needed. Through fermentation fresh food was transformed into intensely flavored food.
Modern chefs use fermentation to create delicious dishes. I learned about a technique from a CIA graduate, AJ Schaller at last year's NRA show. AJ had me sample liquids of intense flavor. These were a result of cryoconcentration. Here's a link for more information www.cuisinesolutions.com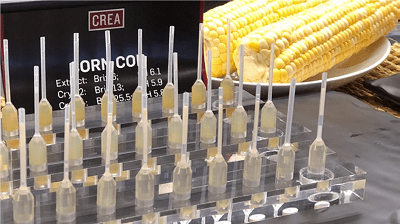 Awareness and understanding of advanced culinary techniques provides foodservice operations with additional tools to combat food waste. Fermentation isn't the total solution, it's one of several tools to reduce food waste AND provide exceptional flavor to food.
Culinary & more…
Kitchen Tech – Value Based Systems
Choosing a kitchen technology system is not easy. It is critical to conduct thorough research of all systems because you will likely be joined to the system for many years. In my 40 years in the foodservice business I've been a part of system adoption four separate times. And I've learned to use 6 different systems. For those that have learned systems or launched new systems, you know the challenges associated with these projects and training requirements. That's why thorough research is critical.
One approach to researching systems uses a value-based model. In a value-based model you assess what your critical needs are, then develop a matrix that overlays your needs to the capabilities of the new system. At this point, don't evaluate base system costs. That will come later. The value-based model focuses on quality of systems.
A quality system will provide you and your team with a user-friendly interface, easy to use/learn configuration, a dashboard with key information, customizable features that you can do in-house, cloud-based accessibility, and continuous system innovation. These would be basic needs. Your operational needs may add to this starting list of requirements.
The goal of the system is to streamline the manager's time working in the system. This can arguably be valuable to an operation because is frees up the manager(s) to be with the production and service teams, and not behind a computer screen. It is at this point that system cost is considered in the system assessment.
Knowing what an operation requires from a system and using this data to select a value-based system is part of the intricate matrix that supports an organization's success.
Team Sport
Foodservice is a team sport. Success is achieved through the effort of the entire foodservice operation.
"Don't pass to the rim." A couple of years ago while I was Director of Culinary Excellence at Yale, the Yale Basketball coach James Jones spoke to the culinary employees. His basketball analogy resonated with me and I'll never forget Coach Jones' words.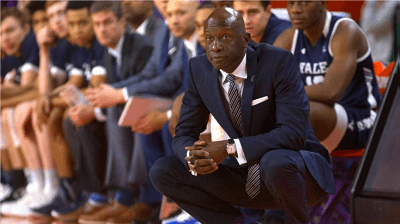 Coach Jones was extolling us to include everyone in the game. If a team member is open, pass the ball. Ensure that everyone on the team touches the ball. In this way everyone feels a part of the team and all share in the team's success.
As a leader, include all team members in the operational "game". Ensure everyone is a part of the play and don't pass to the rim.
Food Impact Summit
On Wednesday, March 18 and Thursday March 19 food industry leaders will gather at Harvard for two days of insights, action and culinary experiences related to this theme: Small Change Big Impact. The Summit is co-presented by Harvard University Dining Services and Hormel Foods.
The Food Impact Summit is a springboard for enacting changes that will have a positive impact for everyone. This summit brings together a unique mix of leaders and change agents from academia, food service, food producers and nonprofits to foster constructive dialog, explore case study insights, and forge new collaborations toward an improved food future. Last year's summit received great press coverage from the Boston Globe and Forbes.
The summit features speakers and sessions covering food for health, regenerative agriculture, food insecurity, food waste and packaging, and the future of farming. The opening Keynote will be delivered by US Gold Medal Olympic champion, Jackie Joyner-Kersee! Other participants include Cambridge Public Schools, Greater Boston Food Bank, Applegate Farms, Boston College, University of Michigan, Marriott International, Pew Charitable Trust, Harvard Business School, Project Bread, Savory Institute, NRDC, Fidelity, MIT Media Lab, Reebok, and more! For additional information, please see the attached 1-sheet or visit the summit website.
The summit will take place at Lowell Lecture Hall, with lunches and a Wednesday evening reception at Annenberg. Please accept this invitation to join us, for any or all of the events, please email me or RSVP HERE.
Ingredient of the Month
Cinnamon Cookie Crumble Profiteroles. It's not an ingredient, but it was incredible. On a recent trip to NYC and after long hours creating a Super Bowl 54 Topping Pizza for Hormel I grabbed dessert at Aureole. Chef Charlie Palmer's flagship restaurant ALWAYS delivers. I really like profiteroles and this variation took the profiterole to a new experience. That's all I've got.
Cooking Tip
Al dente. This is a term for pasta. It means fully cooked pasta that isn't mushy. At least that's how I learned the term and still use it. Al dente pasta is fully cooked, succulent and without a raw flour center.
Determining al dente can only be done by tasting. Period. Al dente pasta will have rehydrated and still have a resistant texture, but it will not be raw uncooked flour or pasta. This applies to fresh pasta and dried pasta. In other words, the pasta is fully cooked.
For an inexplicable reason, at several restaurants in the recent past I've been served undercooked ("al dente") pasta. Once I sent the pasta back twice! And it still was undercooked. So I went to an authority on Italian Cuisine, Tony May. His 1990 book, Italian Cuisine, Basic Cooking Techniques is an incredible resource. In Tony's book al dente is described as having "a somewhat chewy texture and should not break or become mushy when mixed…", but no mention of undercooked unless it will be reheated later in sauce.
One last note. In my experience, high quality pasta is difficult to overcook. The quality of the flour results in complete rehydration and a "somewhat chewy texture". At the end of the day, perfect al dente is what makes you happy.
Buon appetito.
KEEP READING BELOW!
CulinaryNXT is a food service advisory practice drawing on Ron DeSantis' 30 years of experience in all facets of the food industry. Ron is one of only 70 Certified Master Chefs worldwide and has advised organizations of all sizes and types. His strengths include culinary innovation, menu and recipe development, culinary assessment, bottom-line results, and communication skills that allow him to implement solutions effectively. CulinaryNXT's base is in New Haven, but its reach is truly global. CulinaryNXT's relationships extend to numerous countries around the world in a client and alliance network that has been built over many years. These relationships provide both global support and local knowledge.