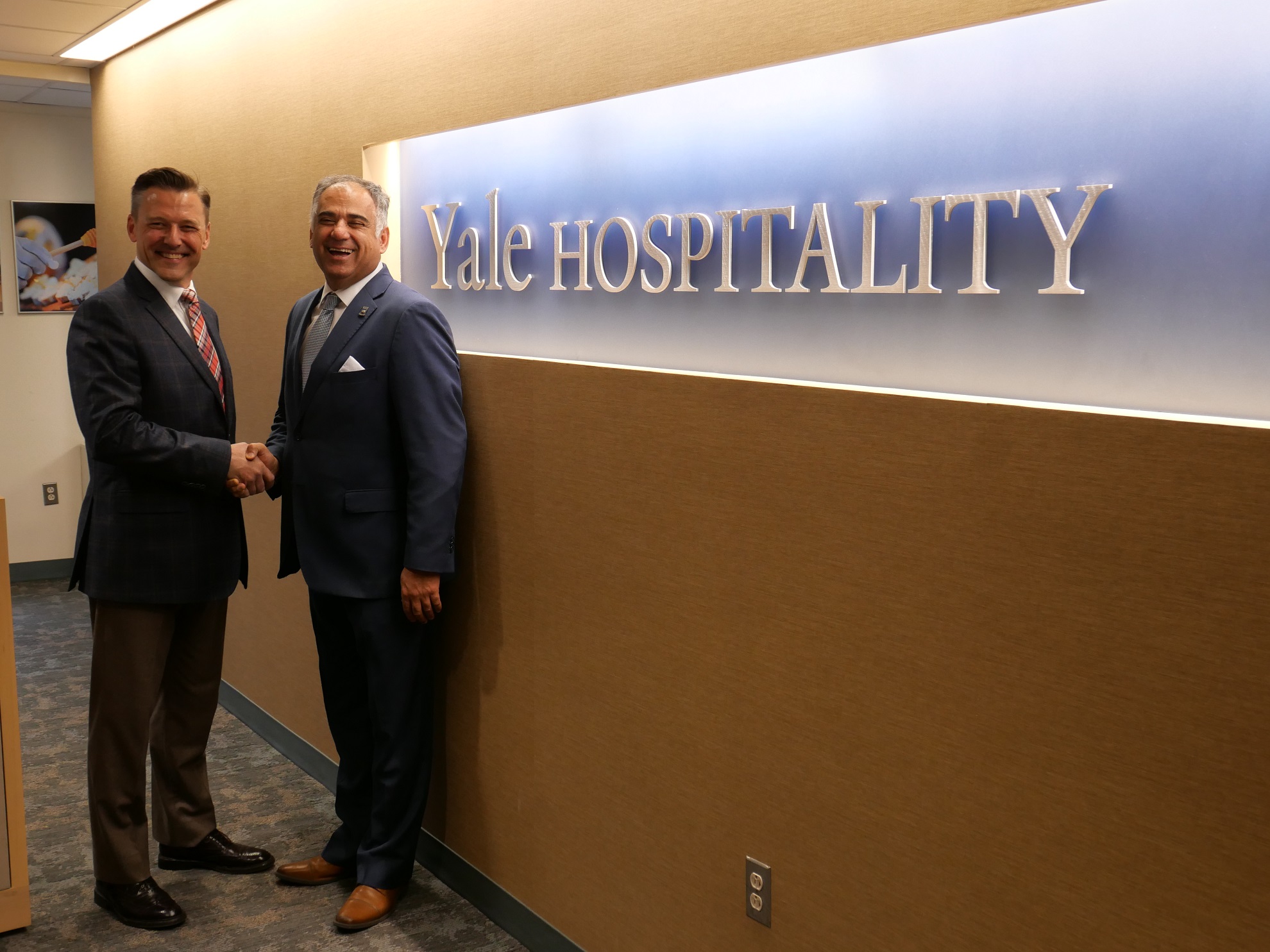 Boston, Massachusetts, US — May 6, 2019
Beginning in summer 2019, Yale Hospitality will be the first college or university (C&U) in the United States to implement Jamix, a cloud-based Kitchen Intelligence System from Finland.
For 30 years, Jamix has been the leader in innovation in this space and has built a fully featured system for food operators to use across multiple sectors including restaurants, universities, hospitals, military and various global organizations. The comprehensive software manages all aspects of a food service operation, including recipe management, costing, menu planning and nutritional analysis, allergen information, inventory management and procurement system. Jamix's innovative approach was recently recognized with 2019 Kitchen Innovations (KI) Award – recipients reflect the trends and topics most important to hospitality today and showcase the future of the industry.
Yale Hospitality will lead the college and university foodservice sector in the US with the most cutting-edge kitchen intelligence system available. Yale's hospitality operational aspirations align with Jamix's leadership in kitchen intelligence systems. "We are truly excited and honored to begin a relationship with Yale Hospitality. The values of their food service operations align with Jamix's leadership in kitchen intelligence systems.", says Mikko Jaatinen, founder and CEO of Jamix.
The partnership with Jamix is consistent with Yale Hospitality's commitment to provide exceptional food and beverage solutions. Both have a mutual desire to actively develop the C&U environment: incorporating AI, machine learning and meaningful predictive analytics.
"Once we began discussions with Mikko's team, we had agreement and alignment in many ways with solutions provided by Jamix" added Rafi Taherian, Associate Vice President – Yale Hospitality. "As our technology needs in the dining room evolve, we firmly believe future innovation requires active pursuit of intelligent, intuitive systems to collect robust data, validate assumptions and provide analytical data for decision making.  We look forward to learning and growing together."
About Jamix
Jamix is a Finnish company specializing in cutting-edge restaurant software for professional hospitality and food service operations to plan and organize recipe, menu, inventory and ordering management, and internal logistics. Founded in 1990 by a young Finnish student, in 30 years Jamix has grown from a small local business into a software company with 2500 + clients all over the world. Headquartered in Jyväskylä, Finland, the Jamix US office is based in the Boston suburb of Jamaica Plains. "Thousands of customers use Jamix to produce hundreds of thousands of meals, every day!"
About Yale Hospitality
Yale Hospitality is a multi-division organization comprised of Yale Dining, Yale Catering, Yale Auxiliary & Retail as well as a full-service Bakery and Culinary Support Center. Yale Hospitality serves an average of 14,000 meals a day in student dining, restaurants, cafes, convenience stores and at catered events. The organization is comprised of 880 Professional, Culinary and Service team members. Yale Hospitality has received numerous prestigious awards recognizing its commitment to community, including the Silver and Gold plate award by International Food Manufacturer Association in 2016. Yale Hospitality is a leader in providing food service solutions that incorporate principles of health and wellness with sustainability and hospitality excellence.