Nutritional information of the menu plays an essential role in all foodservice settings. A kitchen system is an important tool for managing this information. This is one of the topics in the following newsletter by Certified Master Chef Ron DeSantis.
Food Is Just the Beginning™
by Ron DeSantis
Volume 2 Issue 5
May 2019
CulinaryNXT
200 Totoket Rd
Branford, CT 06405
203-415-9190
Come On, Already!
When is it too cold? I'm talking about planes, restaurants, offices…public spaces. On a recent trip every where seemed to have a/c on at really low temps, and it's not summer yet! Maybe it's the years I spent in hot kitchens, but I'd rather be warm than cold. All I'm asking is, turn up the heat a little!
Cheers!
Master Chef Insights
Podium Opportunities
April was an incredible month for attending and participating in conferences. April started with Small Change Big Impact Food Summit at Harvard sponsored by Hormel Foods, followed by my keynote address to the Sunrise Produce Company annual expo, then to Yale Law to hear Chef Dan Giusti of Brigaid talk about the challenges of serving delicious meals in the K-12 sector, and finally at the Produce for Better Healthy conference in Scottsdale, AZ with Amy Myrdal Miller to present a talk/demo about flavor bridges.
The Small Change Big Impact Food Summit is a Hormel Foods initiative to recognize the challenges for the future of the food industry and to find ways to shape things for a better future. The focus of the summit was to create a transparent, secure, sustainable food system through collaboration. Assembled at the summit were leaders from manufacturing, farming, production, culinary, business, procurement, and nonprofits that fight food insecurity.
The Sunrise Produce Company in Fullerton, CA invited me to provide a keynote talk to the 100+ attendees of their annual Expo. The audience was K-12, healthcare, and others. The title of my talk/demo was "Produce – Taking Center Stage". The first part of my presentation focused on the innovation process for incorporating more produce in menus:
Farming for Flavor
Foraging
85% Plantcentric menus
Center of Plate Transformation
Plant Product Recovery
The second part was a couple of plant-based demos to reinforce plant's co-starring role in recipes.
My next conference was at Yale Law School in New Haven, CT. Chef Dan Giusti of Brigaid has, since ending his position as head chef of Noma in Copenhagen, been transforming the way kids in K-12 eat. Dan has been transforming schools in New London, CT since 2016 and is now taking his knowledge to the country's largest public-school system – NYC. Dan shared his experiences in working with the school systems and the successes of which foods kids like to eat. What worked? BBQ bone-in chicken with cornbread and potato salad.
It was clear that Dan is not only a passionate chef, but truly cares about the future of our kid's food health.
Produce For Better Health is a conference focused on…produce! No surprise there. This conference's purpose is to create demand, and drive consumption of produce. To that end, a talented friend and colleague Amy Myrdal Miller MS, RDN, FAND asked me to collaborate on a presentation to the conference. The result was "Powerful Produce Pairings: Using Flavor Synergy to Create Deliciousness". Amy and I created 5 recipes to share with the attendees. She started our 75 minutes with flavor insights then helped me prepare 5 recipes to a packed room. We prepared:
Steak pizzaiola – flash-seared beef scallopini topped with pizzaiola sauce and fried capers
Peanut Butter Mousse and Crispy Apples – creamy peanut butter mousse with crispy lemon-scented apple wedges for dipping
Avocado Hash with Sunnyside Egg – avocado & sweet potato hash with fried egg, crispy radish, and micro greens
Lobster Potato Casserole with Vermont Cheddar – tender, creamy potato and cheddar casserole with New England Lobster
Flatbread with Pear-Blue Cheese Crema, Seared Pear & Walnuts – blended pear and blue cheese crema on flatbread topped with seared pears and toasted walnuts. Finished with watercress and pear mostarda.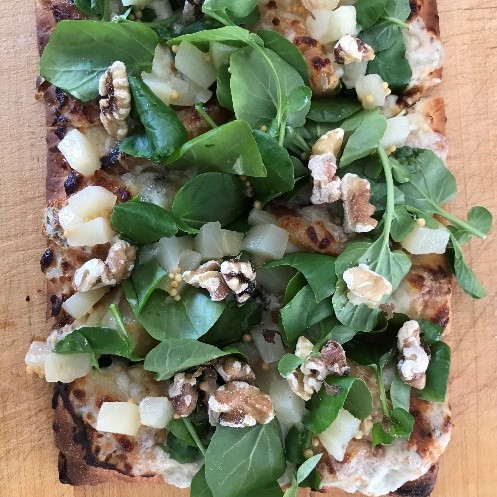 At the end of the demo, these items were served for lunch. The conference's culinary team successfully recreated these recipes.
Produce for Better Health Foundation Demonstrates a Way to Boost Sales and Excitement Around the Power of Produce Pairings During Consumer Connection Conference
What an amazing month for keeping up with the industry!
Culinary & more…
Nutritional Data
The value and importance of nutritional data cannot be overstated. The information is critical to dieticians in all foodservice settings. Having easy access to nutritional data allows dieticians to properly guide diners through the many menu options. In clinical settings this information can impact patient's care. In all foodservice settings this information creates a menu balance, meaning choices for the dining public.
Chefs also have a responsibility to offer menu choices that allow people to select items based on taste, indulgence, allergens, nutritional make-up, seasonality, etc. Technology is available today to make the development of recipes fit within an organization's established dietary guidelines. Chefs should be the starting point for recipes designed within these guidelines. The dietician can then guide the chef to fine tune the recipes.
The best nutritional systems allow dieticians and chefs to make changes to a recipe and instantly see the nutritional impact. The Jamix Kitchen Intelligence System provides real-time nutritional information to dieticians and chefs. This feature can assist in speeding up the reformulation of recipes while also providing cost per portion of the recipe, all valuable tools in today's foodservice operations.
Ingredient of the Month
Asparagus
It's that time of year! Asparagus is one of those foods that says Spring is here. From pencil thin to jumbo there are sizes that appeal to everyone. I just had a great asparagus dish at FnB restaurant in Scottsdale. The chef served grilled asparagus on crispy polenta with fried egg and pea shoots. My favorite asparagus is either roasted or grilled. Don't do too much to the asparagus, I want its flavor to stand out.
Cooking Tip
Knife Skills
The ability to uniformly cut food is a skill worth learning. This doesn't mean a ruler is needed to make sure the brunoise are all 1/8" squared, but just that things are cut as uniformly as possible. The value is that food cooks evenly. The secondary value is that the food looks great. There are countless videos on line that can help with knife skills. After watching them, the most important thing to do is grab a sharp knife and PRACTICE!
Wikipedia: List of culinary knife cuts
Cheers!
CulinaryNXT is a food service advisory practice drawing on Ron DeSantis' 30 years of experience in all facets of the food industry.  Ron is one of only 70 Certified Master Chefs worldwide and has advised organizations of all sizes and types. His strengths include culinary innovation, menu and recipe development, culinary assessment, bottom-line results, and communication skills that allow him to implement solutions effectively.
CulinaryNXT's base is in New Haven, but its reach is truly global. CulinaryNXT's relationships extend to numerous countries around the world in a client and alliance network that has been built over many years. These relationships provide both global support and local knowledge.
Manage Nutritional Data with cloud-based JAMIX Kitchen Intelligence System!