In the picture above: Ron DeSantis, CMC, Chief Culinary Officer at Hungry Planet
Taste, health, environmental impact. These are key reasons for eating more plants and less animal protein in the following newsbrief by Ron DeSantis, CMC, Chief Culinary Officer at Hungry Planet.
January 15, 2023
Food is Just the Beginning
In This Issue
Master Chef Talk
Culinary Insights
Ideas & Thoughts
Master Chef Talk
Why Plant-based?
Hello! This will be the start of a monthly newsbrief. Most of you have received these briefs from me in the past. It's great to reconnect!
Writing a news brief isn't new to me. I started writing during my time as Director of Culinary Excellence at Yale University. My writing continued as an entrepreneur in my business – CulinaryNXT. And two years ago, I sent out my last news brief under the CulinaryNXT label. In that July 2020 news brief, I wrote about a news brief reset. It's taken longer than I anticipated, but here it is.
To begin, a refresher. My life as a chef started in 1975 after US Marine Corps basic training. The Marines assigned me to be a cook. After a rocky start by burning the bacon for the Marines at MCRD San Diego, things took off. After my service I graduated from The Culinary Institute, went to work in Europe for 5 years, had an incredible 20-year career at the CIA, then I lead the culinary team at Yale University, and now have the most satisfying work of my career at Hungry Planet.
Now, on to the topic of this news brief – *Why Plant-based?*
The short answer is – plant-based is better for you and our Earth. Also, vegetables and fruits are delicious!
*Why Plant-based* is worth a deeper dive. Let's begin with TASTE. Vegetables simply TASTE delicious. Although we can get any vegetable year-round, the anticipation of the incredible flavor of a vegetable or fruit in-season is the stuff of dreams. I'm writing this thinking about asparagus season. I know this doesn't last long but the taste of those in-season vegetables is hard to match. In addition to taste, the nutrients of produce provides us with everything we need for healthy bodies. Finally, the colors and shapes of produce are never boring and provide visual texture and vibrancy to a meal.
If these are not compelling reasons, then how about your health? Since the 1990s we have known that unhealthy food, smoking and low levels of physical activity accounted for 80% of premature death in the United States. Just think, longevity begins with what you eat. If you are interested in a food=life deep-dive, visit www.truehealthinitiative.org. I've been fortunate to get to know Dr. David Katz and recommend reading his works at True Health Initiative. You'll find compelling reasons for eating plant-based.
Perhaps you're not sure how to eat plant-based. Here is a tool. This link www.menusofchange.org will take you to The Culinary Institute of America's Menu of Change website. Click on the button in the middle of the screen labeled – "Download one-page Menus of Change Infographic". This one pager demonstrates how easy it is to eat healthy, sustainable meals. The great thing is – you don't have to give up anything. However, the number one principle in the "food and ingredients" section is – THINK PRODUCE FIRST. In total the first 6 principles are all plant-based (the "limit potatoes" thing is a bit weird…nobody's perfect)!
If you need additional reasons, consider the environmental impact of eating plants and limiting animal meat. Eating more plants and less animal protein is proven to be better environmentally. Here are facts:
Eating plant-based cuts emissions by 87%
91% water savings is a result of eating plant-based
We use 70% less land when we eat plant-based
The bottom line – eating plant-based is better for the planet.
My shift to being flexitarian happened by chance. I was teaching a course on Techniques of Healthy Cooking at the CIA's healthy cuisine restaurant, St. Andrew's Café. You'll see the principles of the restaurant on the infographic identified above. It quickly dawned on me that it was a better way to eat, I should practice what I preach, it was cheaper to eat at home (I bought MUCH less animal protein), and it was delicious! My family didn't miss the meat because plant-based is delicious!
One last personal insight. When I eat, promote, and prepare plant-based food professionally and personally, I "bend the curve on personal and planetary health". Professionally there are two stages in my career where I made an impact. The first was as a teacher at CIA. I know I made an impact because CIA graduates tell me I did. This is humbling and I'm grateful to have had the opportunity to share knowledge and help guide budding culinarians. The current stage of my career is the second time I'm making an impact. Here's how – every time someone chooses plant-based meat from Hungry Planet they are helping themselves AND the world.
Thank you for taking the time to read. Go ahead, help yourself and the planet – eat plants.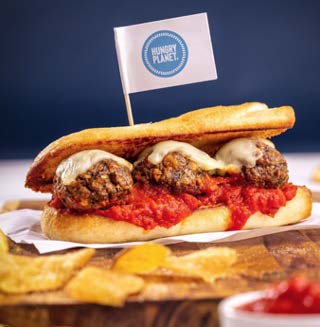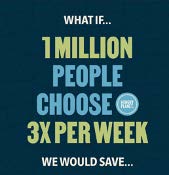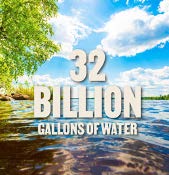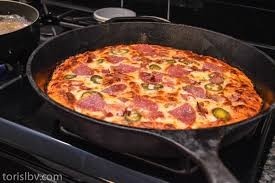 Cast Iron Pizza
You want great pizza at home? Break out the 12" cast iron frying pan. Place the pan in a cold oven and dial it up to 500°F. When the oven is heated, so is the pan. Now slide your pizza into the pan (NO FAT) and bake until done, golden, and crisp (about 6-9 minutes). Slide out of the pan, cut and enjoy. You're welcome.
Buon appetito.