The obvious customer information is menu prices, but many customers want nutrition and allergen information that is easily available. This is one of the topics in the following newsletter by Certified Master Chef Ron DeSantis.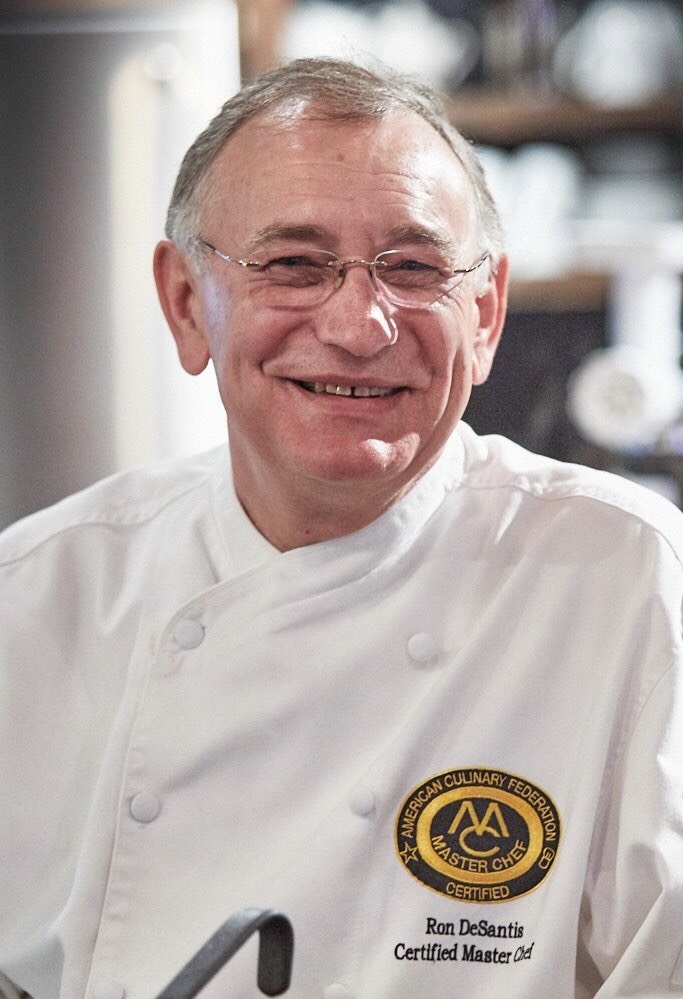 Food Is Just the Beginning™
by Ron DeSantis
Volume 1 Issue 3
August 2018
CulinaryNXT
200 Totoket Rd
Branford, CT 06405
203-415-9190
Come On Already!
During my first hand writing a newsletter a couple of years ago, I called the newsletter, "Come On Already!" This is something you'd hear me say for a variety of occasions – something amazing, something ridiculous, something unbelievable (to me anyway), and….you get the idea. I hadn't realized I used this phrase until a trip to Spain some years ago and my host wondered why I said that, well because, it doesn't make sense when translated. But, everyone gets the gist.
Here's this month's Come On Already!…give me feedback.
Are Small Plates Too Small?
Small plates are a fun way to eat. A group of friends get together and order a variety of small plates to share and experience flavor & textures. However, at some point the small plates are just too small. How do 4 people share 3 shrimp? The answer is, you have to order a second small plate of shrimp. Now I have 2 more shrimp, but that's not too bad because I can cut them in half and each gets ½ shrimp. But, wait, who gets the tail and who gets the fat juicy end? But, you say, why not split the last 2 shrimp lengthwise?….why not indeed. When did dining become so complicated????
Cheers!
Master Chef Insights
Allergen & Nutrition Information
Providing customers with information allows them to make decisions when eating in our establishments. The obvious customer information is menu prices, but many customers want nutrition and allergen information that is easily available. My recent years in College & University foodservice underscored the importance of nutrition and allergen information. The customer population with food allergies must know what is in food.
Kitchen management systems provide managers with the tools to get critical allergen information to customers. Menu cards can be printed or digitally displayed at the point of access to provide diners with allergen information. This information is displayed as a list of ingredient and, in many cases, as icons. The icons are a great visual graphic that allows the diner to quickly scan the known allergens that might be in the food.
Nutritional information is the other piece of information diners use to make meal choices. Kitchen management systems can upload this information to mobile device apps so that the customer can see the information at any time.
Jamix Kitchen Intelligence System is a comprehensive technology solution that provides allergen & nutritional information for customers. For more information visit www.jamix.com
Culinary & more
Lentils
I finally realized that I'm a geek…..a food geek. My recent collaboration with CIA Consulting and lentils.org made me realize I'm a geek, otherwise why get excited over lentils!? And I was/am excited over lentils. Together with certified master chef Tony Seta, we lead a group of top chefs through a series of talks, tastes, and team hacks to come up with delicious lentil-forward menu items.
The project yielded some interesting outcomes. The biggest surprise for me was that lentils blend well with ground beef. I went in thinking the lentil flavor would be dominant but in a 66:33 ratio the beef was the star and the lentil helped to make the burgers delicious. Green lentils (which look brown) also blended well with turkey, and pork, and red lentils were delicious with salmon.
Our process was to cook the green lentils, then puree them and use the puree to mix with ground meat. Red lentils were only soaked, then pureed and mixed with salmon.
The participants were set up into teams and given a market basket of ingredients to use. Teams created signature burgers, inspirational bowls, and craveable street food. For more information visit www.lentils.org
Brava
Cooking with light is at the core of the Brava cooking system. The light comes from powerful light bulbs inside the Brava. The power of the light can professionally caramelize meats and vegetables in a short time. The result is seared food cooked to a perfect predetermined doneness. And the food is delicious.
I was able to experience the Brava in action recently in Manhattan. The CEO, CTO, and Chef were in NY to demonstrate the technology. I got there as a 4 portion beef strip was being served with roasted potatoes and seared mushrooms. Here's the coolest part – all 3 ingredients were cooked AT THE SAME TIME, and each was perfectly done. As if that wasn't enough, the chef then cooked 2 portions of salmon filet with roasted tomatoes and asparagus. The salmon skin was cracker-crisp and the center of the fish was medium (as requested).
The process includes 3 cooking zones inside the Brava and technology that knows how much light intensity and time is needed for each ingredient. And the Brava has a video feed of the food cooking. I'm going to keep an eye on Brava. For more information www.brava.com
Thanks Darcy!
Chris Cheung
Chef Owner of East Wind Snack Shop NYC & Tansuo in Nashville.
Chris Cheung – cool guy, excellent chef, and mafioso! He's all that and more. I first saw Chris on Anthony Bourdain's show No Reservations in a Chinese restaurant in NYC's China Town. THAT'S how cool Chris is. I got to spend time with Chris while taping cooking videos for Hormel Foods. Then I interviewed Chris for a Cooking Journey podcast also for Hormel Foods. Talking with Chris is like talking with a good friend. The conversation flows, the talk of food is always in the center and you find out quickly that Chris knows food.
Chris has SERIOUS culinary chops – Jean George Vongerichten, Morimoto, Wylie Dufresne – are notable chefs he as cooked with. He has traveled China to learn about Chinese cuisine, and he worked alongside a Master Chinese dim sum chef to fully understand the craft of creating dim sum.
If you really want to know about Chris' food, visit him at East Wind Snack Shop eastwindsnackshop.com
Web Link of the Month
Food from India – 2018
The flavor forecast from Flavor and The Menu magazine has great insight into what's going on right now.
Here's more information from experts: getflavor.com
Another use for beer from the Czechs…. npr.org
Special Feature
Chef Humberto Espinal
Yale 3rd Cook, Chef Humberto Espinal took top honors at the 2018 NACUFS National Culinary Championship. This is especially meaningful to me for several reasons. Foremost is because Humberto is one of those joyful success stories. 6 years ago while I was Director of Culinary Excellence at Yale Hospitality, I had to inform Humberto that I couldn't hire him without a high school diploma or GED. It was one of the most difficult messages I had to deliver. It was difficult because Humberto was, and is, a craftsman and I knew he would give everything to our craft. I told him to call me when he has his diploma.
2 ½ years after that meeting, Humberto called me to say he got his GED! His timing was right because we had a cook's position open and Humberto was now on the Yale culinary team. Over the next couple of years, Humberto continued to hone his craft and this year he wanted to compete to represent Yale Hospitality at NACUFS.
The rest, they say, is history! Congratulations Humberto to your Championship!
CulinaryNXT is a food service advisory practice drawing on Ron DeSantis' 30 years of experience in all facets of the food industry. Ron is one of only 68 Certified Master Chefs worldwide and has advised organizations of all sizes and types. His strengths include culinary innovation, menu and recipe development, culinary assessment, bottom-line results, and communication skills that allow him to implement solutions  effectively.
CulinaryNXT's base is in New Haven, but its reach is truly global. CulinaryNXT's relationships extend to numerous countries around the world in a client and alliance network that has been built over many years. These relationships provide both global support and local knowledge.