Knowing how much to prepare is essential information for food service operators. Kitchen systems help management with accurate production forecasting. This is one of the topics in the following newsletter by Certified Master Chef Ron DeSantis.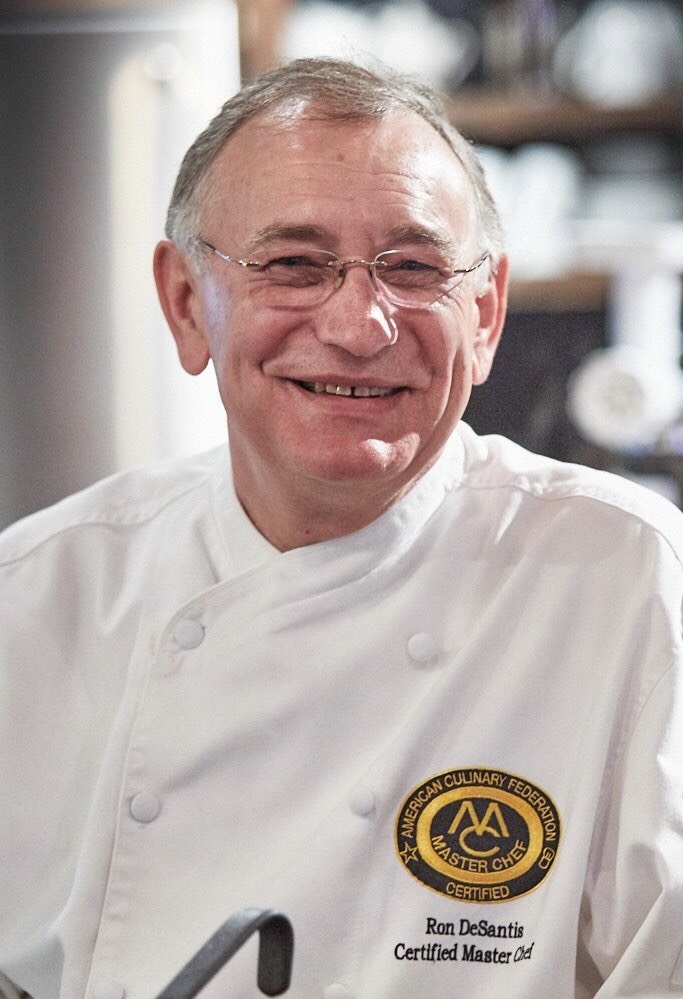 Food Is Just the Beginning™
by Ron DeSantis
Volume 1 Issue 2
July 2018
CulinaryNXT
200 Totoket Rd
Branford, CT 06405
203-415-9190
CulinaryNXT Food Forecast
"The culinary horizon is coming into focus as chefs step up foraging, fermentation and fire. Foraging is bringing sloe berries, yarrow, olive capers and gooseberries to the modern table. Much of the ongoing flavor explosion is rooted in fermentation, pickling, curing and brining. And the fascination with live-fire cooking will burn brightly as fire delivers intensely flavored food."
As quoted by Ron DeSantis to Flavor & The Menu in January 2018.
Cheers!
Master Chef Insights
Production Forecasting
The culinary team thrives on forecasts. "How many orders?" is the language of a la carte restaurant chefs. These culinarians are asking "what's on the books?", or how many reservations for the evening. They will then know, from experience how many portions of each dish to prepare. This process continues in countless foodservice operations worldwide. Knowing how much to prepare determines purchasing quantities, station MEP, and staffing, to name a few.
Technology can provide leadership teams with analytic tools to fine tune production forecasting. Kitchen management systems use historical data to provide management with accurate production forecasts. This information is distributed to culinary teams to allow them to prepare the proper number of portions.
Accurate production forecasts require operational teams to capture raw data. Basic data needed by management systems are – quantities prepared by the kitchen staff, number of transactions, and shortages/outages. This information will be used by the software to forecast future production quantities needed by the operation. The benefits to an operation are numerous: purchases can be accurate which controls purchasing costs; production of food is more accurate which assists staffing (labor costs), and results in fewer leftovers; less discarded food means less trash waste; energy consumption is reduced when overproduction is managed; and there are many other benefits.
Establishing a production forecasting system has numerous benefits to operational success.
Culinary & more…
Oyster Farmer
Early in June I had the opportunity to visit Copps Island Oyster farm. I had met the owner, Norm Bloom last December and he invited me to go out on one of his boats. It was December, seriously cold, and I had "office shoes" on, so I declined and took a rain check. So early in June on a beautiful day I visited Norm's farm and went out with his son Jimmy to harvest oysters. What a great experience.
6am I was heading out into the Long Island Sound on an oyster boat built in 1932. After about 20 minutes into the Sound, Jimmy dropped cages off each side of the boat. When he hauled them in, they were full to the top with shells. Then 2 deck hands maneuver the cages over top of one of 11 bushels that will eventually hold 550 bushels, and by pulling a lever, opened the cage bottom. Everything in the cage dropped into the bushel, and the process was repeated for about 75 minutes. When the bushels were full, we headed in.
During that trip, (and Jimmy makes 3 trips a day, 6 days a week, all year) I learned that during this time of year the bushel on the deck yields 8 bushels of half-shells, 20 bushels of throwback, and the rest the material, all shells, is recovered and used to prepare fresh oyster beds in other parts of the sound. Norm's family has been farming the waters for over 100 years. They are committed stewards of the seas.
Once back in dock, the bushels are unloaded and moved into refrigerated sorting rooms. Oysters that are selected for market are picked and put into bins. These bins are eventually emptied onto a conveyor, rinsed, sorted one last time and then bagged for distribution.
Find the Cause
Find the Cause is an organization in Boston that raises money to….find the cause. Of breast cancer. Their mission is "to fund scientific research on the environmental causes of breast cancer and educate the public on prevention". My wife, Sylvia, and I were guests recently at their gala. Part of the reason I was going is because I was an auction item. I offered to cook dinner for up to 20 guests at the home of the auction winner. The auction started and ended up netting $13,000 for me to cook dinner. The proceeds go to Find the Cause.
Ingredient of the Month
Smoked Paprika
It is just a coincidence that this month's ingredient is another smoked ingredient. Smoked paprika is one of those tastes that gets your attention. I remember developing a recipe at Yale which included smoked paprika, so it was now part of the inventory. I was visiting a kitchen and noticed smoked paprika being used in a recipe and said to the cook, this isn't in the recipe. He smiled, and with joy said, "I know, but I LIKE it!"
Smoked paprika is one of those satisfying ingredients. One of my favorite dishes is made by a dear friend. She sautés peeled shrimp in olive oil, slivered garlic, and smoked paprika. It is a combination meant to be.
Web Link of the Month
Mediterranean Meats
The flavor forecast from Flavor and The Menu magazine has great insight into what's going on right now.
Here's more information from experts:
CulinaryNXT is a food service advisory practice drawing on Ron DeSantis' 30 years of experience in all facets of the food industry. Ron is one of only 68 Certified Master Chefs worldwide and has advised organizations of all sizes and types. His strengths include culinary innovation, menu and recipe development, culinary assessment, bottom-line results, and communication skills that allow him to implement solutions  effectively.
CulinaryNXT's base is in New Haven, but its reach is truly global. CulinaryNXT's relationships extend to numerous countries around the world in a client and alliance network that has been built over many years. These relationships provide both global support and local knowledge.